This has been a difficult period in my Reform Jewish and Downtown Manhattan communities as we mourned my teacher and colleague, Rabbi Aaron David Panken. [Rabbi Panken, Hebrew Union College-Jewish Institute of Religion's top executive, was killed May 5 when the plane he was piloting crashed in upstate Orange County.] Thank you for your coverage of his death and for beginning to codify his legacy in print.
I am writing to point out something that I have noticed in The Jewish Week reporting in general and which was particularly of note in your coverage of Aaron's death: the dearth of women in your stories, whether as subjects or as sources. While Gary Rosenblatt's column was corrected late to note the participation and leadership of Rabbis Sarah Messinger, the officiant and a eulogist, and Rabbi Melinda Panken (Rabbi Panken's sister and a eulogist), the first version only noted the male dignitaries of the Reform movement. But this correction came only after significant disappointed response from colleagues.
In Steve Lipman's article, while I recognized the great man that I knew and loved in the descriptions of Rabbi Dr. Panken, it was shocking that every person quoted and mentioned was male. Even in describing the family speaker at the funeral, Mr. Lipman chose to mention Rabbi Panken's father, while omitting mention of his rabbinic sister's eulogy or his sister-in-law, who officiated the ceremony and also presented a eulogy. The students and faculty quoted were all male, though more than 50 percent of students ordained this year are female.
The story you retold of Rabbi Panken's journey to SWFS Hebrew School omitted the oft-repeated (and noted with pride by his father at the funeral) detail that Rabbi Panken's childhood rabbi and bar mitzvah officiant was the first ordained woman in the U.S., Rabbi Sally Priesand. There are women faculty, rabbis, students, colleagues, and family members who have been speaking, writing, posting, and taking leadership roles during and after this loss. They are not hidden sources. They should not be omitted from the pages of The Jewish Week.
In an era of #MeToo and a reckoning about how male power and gender inequality and inequity are harmful to our people, our communities, and our society, I am focused on how we can lead our Jewish community forward towards a more positive and successful future for all of us. I believe that you, and our community, can do better in this area.
Executive Director, 14th Street Y, Manhattan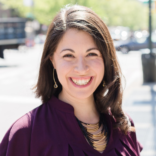 is executive director of the Center for Rabbinic Innovation, a project of the Office of Innovation.
The views and opinions expressed in this article are those of the author and do not necessarily reflect the views of NYJW or its parent company, 70 Faces Media.