In November 2009, the Anti-Defamation League (ADL) published a report titled "Rage Grows in America: Anti-Government Conspiracies." One year after the election of President Barack Obama, the report attempted to sound the alarm about the mainstreaming of anti-government and anti-Obama conspiracy theories in Republican and conservatives' spaces, and the growth in power and influence of fringe organizations on the far right. The role of certain Fox News personalities was explored, including its most popular host, Glenn Beck. The Tea Party was described by the report as a grassroots movement driven by conspiracy theories. The anti-Obama "birther" conspiracy got its own subsection.
Anti-Semitism or anti-Jewish hate are barely mentioned. The report didn't explain why Jews in particular should be concerned about the growing embrace of conspiracy theories on the right. But since it was coming from the ADL, I guess readers were expected to connect the dots.
"Rage Grows in America" generated complaints from across the conservative spectrum, including Jewish leaders and organizations. Commentary executive editor Jonathan Tobin said that it was a partisan attack against all Republicans. Matt Brooks, from the Republican Jewish Coalition, suggested that its focus on the right was misplaced because there were "equally troubling and disturbing actions on the left." Beck defended himself as a friend to the Jews, leaning on his support for Israel and hostility to Iran.
Eleven months later, the ADL honored Rupert Murdoch at its annual gala. The speakers who praised the News Corporation chairman included Harvey Weinstein, Fox News chairman Roger Ailes and the ADL's national director, Abe Foxman. 
According to a report in this paper, "Murdoch described a world awash in anti-Semitism. 'We live in a world with an ongoing war against the Jews. Some fire rockets, others pursue nuclear weapons. Terrorists target Jews in Israel and abroad, especially Europe. At home anti-Semitism has found a new home in polite society, coming from the left.'"
One month later on Fox News, Beck debuted a special series called "The Puppetmaster," focused on the nefarious plotting of progressive Jewish philanthropist and financier George Soros. Steeped in anti-Semitic imagery and language, it positioned Soros as The International Jew, the man pulling the strings behind the rise of "left-wing fascism." In Beck's own words, "He has tens of billions of dollars all flowing in, pulling strings. His tentacles are everywhere. What is he going through all of this trouble for to achieve? Well, globalization."
When Jews today wonder aloud where the rise of white nationalism came from, a movement that has inspired deadly shootings in synagogues in Pittsburgh and San Diego, I think back to those 12 months between November 2009 and November 2010. The political rise of Trump and Trumpists, white nationalists' fellow traveler, was due to his embrace of the birther conspiracy. The language Beck used then to describe Soros is today mirrored by President Trump ("globalist!") and conservatives like Chris Farrell ("Soros-Occupied State Department"). And all this time, Fox News has been their handmaiden.
In 2009 the staff at the ADL, which monitors hate groups, saw what was coming. Yet its own leadership was honoring a man in Murdoch who bore much of the responsibility for amplifying and encouraging the conspiracy theories the ADL knew were dangerous. It's clear which perspective won out. Too many Jewish communal leaders, instead of sounding the alarm, followed Foxman's lead. 
Some of us in the Jewish left did respond, calling out the anti-Semitism and leading a campaign in the Jewish community to get Beck off Fox News. And in 2015, when Trump was riding the rhetoric of white nationalism to a possible Republican Party nomination, it was the Jewish left again that led, stepping up to warn of the danger it posed to Jews and more marginalized communities. The Jewish right was largely paralyzed, having bought into Murdoch's story about the unique danger of left-wing anti-Semitism and growing anti-Israel sentiment. These friends of the Israeli right couldn't be a danger to American Jews, they assured themselves.
At the same time, the Jewish left was hamstrung. It had not exercised its anti-anti-Semitism muscles often in recent decades, and they had atrophied. In part this was due to dynamics in left-wing spaces. Some on the left dismissed anti-Semitism as a "white people's problem" or embraced notions of Jewish "power" that were themselves rooted in anti-Semitism. In part this was due to the assertion by Jewish defense groups — downplayed as racism or disdained as paranoia by the Jewish left — that the "real" anti-Semitism was rooted in anti-Zionism and black nationalism (i.e., among Muslims and blacks).
So, where does this leave us in 2019?
There are many more Jewish organizations and Jewish thought leaders, across the ideological spectrum, awake to the threat of white nationalism. Key members of the so-called "Never Trump" crowd are Jewish conservatives like David Frum and Jennifer Rubin, who attempt to hold their former allies accountable for ignoring this ascendant hate-fueled movement. On the left, progressive Jewish organizations like Bend the Arc and Jews for Racial and Economic Justice have dedicated significant resources to combating white nationalism's anti-Semitism and to helping the non-Jewish left overcome its own blind spots and biases. 
Support the New York Jewish Week
Our nonprofit newsroom depends on readers like you. Make a donation now to support independent Jewish journalism in New York.
Yet we have a long way to go to meet this challenge. The anti-Semitism beat has been dominated for too long by individuals and organizations that often seemed more interested in defending Israel than in protecting Jews. Today, problematic comments by leaders of color like Rep. Ilhan Omar or Tamika Mallory elicit a hair-trigger response, while problematic comments by friends of Israeli Prime Minister Benjamin Netanyahu (or Netanyahu himself) are ignored or papered over. At the same time, many left-wing Jews are perhaps not paranoid enough, still seeing ourselves as (largely) safe, white allies to the real victims of white violence and systematic discrimination. 
Between 1906 and 1918, our community gave birth to three Jewish defense organizations: the ADL, the American Jewish Congress, and the American Jewish Committee. They were motivated in part by the dangers they saw facing Jews: pogroms in Eastern Europe, the Leo Frank lynching in Georgia, defamation in media and culture, discrimination in housing, employment and accommodations. Over time they helped make possible the widespread acceptance of American Jews by American society. But initially they were too weak to prevent passage of the Immigration Act of 1924, which ended the wave of Jewish immigration to the United States, sealing their fate in the smokestacks of Hitler's Europe.
We need to act today with a similar sense of urgency and unity, not knowing exactly what lies ahead. It is not inevitable that we will win this fight. It is considerably less likely if we do not even engage.
Rage grows in America, we were told a decade ago. Today it is grown and gunning us down in shul. Isn't it time we do something about it?
Mik Moore is the founder and principal of Moore+Associates, a creative agency in New York City.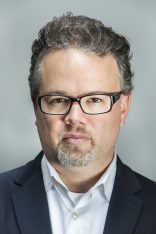 is the CEO of Moore+Associates, a creative agency based in New York City that works with political campaigns and non-profit organizations. He is the co-founder of Schlep Labs, a Jewish Super PAC, serves on the steering committee of The Jewish Vote and on the boards of several Jewish non-profits.
The views and opinions expressed in this article are those of the author and do not necessarily reflect the views of NYJW or its parent company, 70 Faces Media.