TRUSKAVETS, Ukraine (JTA) — Nearly 600 Jews stand shoulder-to-shoulder, eyes trained on the young man leading the service to close out Shabbat. The crowd sings a soulful havdalah tune that lifts up its final words: "hamavdil ben kodesh l'chol" — "the One who divides between sacred and ordinary."
It looks like a Shabbat gathering anywhere else in the world, but I'm in the western Ukrainian city of Truskavets, where — from every part of their conflict-scarred country — these Jewish community volunteers have come together for a four-day retreat, energized by the chance to learn from each other and take a deep breath.  
I'm back in Ukraine for the first time since the crisis began to learn from these men and women making miracles happen. I came to document and share stories from this gathering. Remarkably, it's the largest-ever in the former Soviet Union arranged by my organization, the American Jewish Joint Distribution Committee, or JDC, which has worked to aid needy Jews and build Jewish life in the region for decades.  
With its wine and sweet-smelling spices, havdalah eases the transition from the holy purity of Shabbat to the workaday mundanity of the week. Surrounded by hundreds of Ukrainian Jews, I felt uplifted, as I always do when I travel to this region and see its defiant, vibrant Jewish life.  
The usual rules don't apply. Here, the ordinary becomes sacred.
On this, my 14th trip to the former Soviet Union in 10 years, I've come to know it as a place where that switch is truly flipped. Rebuking a painful history, from the Holocaust to Soviet oppression, everyday actions become lifesaving and essential. That's never been more true than this past year, as Jewish communities here worked overtime to meet the enormous humanitarian needs of this crisis.   
Simple flashlights become beacons enabling home care workers to reach the bedridden elderly Jews they serve. Bus trips between cities are transformed into escape hatches for those fleeing rocket attacks. A box of nonperishables is manna from heaven for those faced with empty grocery shelves, and each call from a volunteer is a life raft for the loneliest seniors and most vulnerable at-risk families.
Over the last year, more than 3,000 volunteers engaged in projects affecting 36,000 people. This work is part of our expansive response to this crisis — supported by the Jewish Federations of North America, the Claims Conference, International Fellowship of Christians and Jews, individuals, families, corporations and foundations. It includes providing uninterrupted assistance to 43,000 Jews in Ukraine and the delivery of 800 tons of humanitarian aid. Among those we help are the elderly and families, internally displaced people, and the new poor who have lost their livelihoods in the devastation.
Not blind to the challenges they face, Jews and Jewish communities here are resilient and resolute in the knowledge that there's something more important at play. It's a clarity of purpose that means, against all odds, they've grown even stronger.  
"My fears were boiling me alive," said Tatiana Chumachenko, a 34-year-old Odessa mother of two. She started volunteering this summer and now runs weekly cooking classes and art therapy sessions for elderly Jews. "So I made the decision to widen my world — to take on more responsibility, to take care of more people. And volunteering literally saved me."  
Thousands of Ukraine's Jews just like Tatiana have chosen determination, not despair. They've driven through besieged cities delivering medicine and firewood, power generators and portable heaters. They know their Jewish values demand action and compassion, and so they've stepped up. 
Daria Yefimenko, the head of our network of 25 volunteer centers across Ukraine, is that resolute determination personified. The air raid siren went off the other day as I was interviewing her — a shocking noise, made more frightening by its maddening vagueness: What's happening? Where? Am I in danger, or is this just background noise?  
I learned later that just a few hours before I arrived in Ukraine, a missile had struck Drohobych, only 10 kilometers from the Shabbaton.  
Yefimenko seemed unshaken. She and her team — her "family of superhero volunteers" — live here, of course. They must cope with brutal shelling and unpredictable electricity cuts. They have daily fears for their loved ones, and rising anxiety about what the future holds. They help their neighbors even as they share their pain and struggles.  
And they keep on going.  
There are so many stories in this part of the world — World War II stories, Soviet stories, stories of rebuilding and reimagining Jewish life after the Soviet Union fell. I'm curious about the one we'll tell when this is all over.  
Will we remember how Jews supported each other in the darkest days? We should.  
Before the massive Shabbaton havdalah, I led a smaller version at the hotel down the road where we have housed hundreds of internally displaced people since the earliest days of the Ukraine crisis.  
Six elderly Jews from the Zaporizhzhia region joined me for their first havdalah ever. Among the group was 76-year-old Alla Hodak, who fled from a place with significant devastation. 
Here, observing Jewish rituals in a third-floor alcove, she had begun to form a makeshift community—not quite home, but not alone either. "You made sure we were never abandoned to fate," she told me.   
In that moment of stark intimacy, our small group blessed the wine, smelled the cinnamon, and felt the warmth of the braided candle. It bound us together and reminded us that drawing a distinction between then and now can be holy, too.  
As we take stock of a year of grief and grit, we must guarantee that the next one is a kinder one. We must recognize our own hands as sacred tools and each member of our global Jewish family as holier still.  
There's nothing ordinary about that. Each person and each day has become an opportunity to do good for those who need us most and build their future together. That's the only way forward.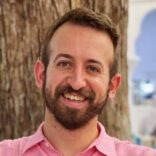 is a former journalist and the JDC's senior video and digital content producer.
The views and opinions expressed in this article are those of the author and do not necessarily reflect the views of JTA or its parent company, 70 Faces Media.