(JTA) — In the aftermath of the worst coordinated attack on Israel since the Yom Kippur War exactly 50 years ago, Israel is in shock. Amid the fog of the ongoing developments, questions abound. First and foremost: how could this happen?
How could military intelligence have failed so colossally? How could IDF bases be so easily overrun? How could Gazans bombard Israel from the air, land and sea, occupying Israeli communities, slaughtering soldiers and civilians alike, and taking dozens of hostages, without any seeming resistance? With harrowing images and videos of Israelis being held hostage or hiding in shelters, how could it take so long for military or police forces to respond? How could Gazans simply bring a bulldozer to tear down the fence between Israel and the Gaza Strip?
Israelis planned to commemorate 50 years since the surprise Egyptian attack on Yom Kippur in 1973, with public discussions underway on the lessons learned from what was once Israel's greatest intelligence failure. But a new, unimaginable catastrophe has now taken place that will mark Israeli history with yet another failure to anticipate an enemy attack coinciding with a Jewish holiday. Now, as then, inevitably there will be investigative commissions to understand the leadership and operational failures that enabled this unprecedented terrorist assault. Now, as then, the ramifications will be long-lasting.
But for now, as the situation continues to unfold, more immediate questions emerge about the IDF's response and the days ahead:
What will be the extent of the IDF response, and what will be its goals? How will Israel confront the reality of more than 50 Israelis reportedly being held hostage (from civilians to IDF commanders)? Will the leadership of Hamas be targeted for assassination? Will the IDF reoccupy Gaza? Will Mahmoud Abbas and the PA survive the aftermath amidst increasing irrelevance? Will Hezbollah join in rocket barrages? Will the West Bank and Jerusalem see a wave of attacks? Will Israel-Arab riots commence in the days and weeks to come, reminiscent of the conflict witness during the last Hamas-Israel round in May 2021? And most of all: How does this end?
These events will influence Prime Minister Benjamin Netanyahu's legacy. Once billed as Mr. Security, Netanyahu and the Israeli government failed to provide the most basic security needs of Israel's citizens.
For nearly a year, my colleagues and I at Israel Policy Forum have joined with others in expressing concern about the nature of Israel's far-right government, which absurdly placed Itamar Ben-Gvir as minister for national security with authority over Israel's border police despite his history of radicalism and his lack of any security credentials or experience whatsoever. Our hope, alongside so many others, was that a government influenced by inexperienced, far-right leaders would not be tasked with managing a security crisis, let alone one of this magnitude.
Now, the political future is also murky: Can this government proceed as presently constituted in response to the Hamas assault? In normal times, such a crisis moment would be cause for the creation of a national unity government. Yair Lapid has now called for an emergency unity government, one without Ben-Gvir and other extremist ministers, and Netanyahu seems amenable. Could this be a moment for Netanyahu to upend his coalition?
Lapid's call for a unity government and other immediate statements from opposition and protest leaders affirm that Israel's unity in response to this attack — as typically expressed in times of security crisis — is strong. Israeli resiliency in times of crisis has repeatedly been tested and remained steadfast. And yet this crisis comes after months of the fiercest political and societal divisions Israel has ever experienced. Social media is abuzz with outrage over the government's clear failures, but also with finger-pointing at protest leaders who refused reserve duty in protest of the overhaul for contributing to Israel's lack of preparedness. Can Israeli unity, so clearly needed in response to this assault, hold?
Meanwhile, the Biden administration's pursuit of Israel-Saudi normalization will face an enormous test. The administration will be forced to directly engage in the Israeli-Palestinian conflict, working to ensure that regional stability can be restored at the end of this round.
But how this ends is deeply uncertain. This round, launched by a horrendous Hamas attack, will be forever remembered for yet another historic intelligence failure by Israeli intelligence, but also for the horrific brutality of the terrorists' actions, which will not soon be forgotten by a traumatized Israel.
A turning point has arrived. How long this current crisis will last, whether and how the current Israeli and Palestinian leaders survive it, and what comes next for the Israeli and Palestinian people, are all deeply in question. What is not in question: Change is coming.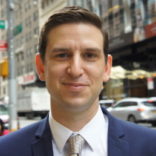 is chief executive officer of the Israel Policy Forum. His writings have appeared in Haaretz, The Jerusalem Post, The New York Times, Politico, The New York Jewish Week and the Forward.
The views and opinions expressed in this article are those of the author and do not necessarily reflect the views of JTA or its parent company, 70 Faces Media.