SHITIM, Israel (JTA) — Like many Israelis, I woke up on Saturday in a stupor after celebrating late into the night of the festive holiday of Simchat Torah. I had been attending a four-day festival with hundreds of young Israelis and internationals in the small southern community of Shitim, one hour south of Eilat.
Waking up on the final day of our gathering after a joyous week celebrating Sukkot, I had plans to return to my personal routine after completing the lengthy High Holiday season.
Instead, I woke up hearing tears and panicked conversations in the tents surrounding me. Something was obviously wrong.
Within a few minutes of checking my messages and the news, it became clear that there would be no routine for the foreseeable future as Israel instead faces its most crushing military disaster since the Yom Kippur War in 1973, and its most significant civilian catastrophe perhaps since its founding.
I was far from where Hamas militants had flooded into Israel. But all around me in the community of several hundred gathered for the event, I met young Israelis in the breakfast area desperately trying to reach parents who live in kibbutzes on the Gaza border area.
Others were personally connected to young Israelis missing after an attack at another music festival, at Kibbutz Re'im near the Gaza border. Media reports show a scene of utter carnage at that festival.
People shared their phones to show viral social media posts, including images and videos of Israelis allegedly captured and presumably held in the Gaza Strip, and boastful claims of astonishing victories for the Hamas-led attackers. Social media is filled with posts from people searching for missing family members and, distressingly, comments by friends and family members recognizing their loved ones in those videos and photographs. Reports are streaming in about soldiers killed in combat.
The army and police advised against any travel in our area, and across the country. Yet those attending who were called up for reserve duty nonetheless departed to locations including Gaza, the northern front and the West Bank, as Israel braces for the possibility of additional conflict on multiple fronts.
Other civilian guests in our area chose to seek refuge in the southernmost city of Eilat, out of an abundance of caution, while the local regional council offered hospitality for those who wanted to shelter in private homes. I chose to stay in place, as it feels unsafe to travel in the direction of Gaza towards my home in Tel Aviv, which has seen a barrage of rockets.
I called to check in on a close friend of mine who serves as a reservist and had already made his way to a base where he is awaiting further orders. "The mood here is positive for now," he told me. He added, referring to the protest movement that has gripped Israel since the beginning of the year, "All the political divisions discussed in the media have evaporated. There is complete unity here for the task ahead and there is nowhere I would rather be now."
Other friends of mine in the mixed city of Jaffa, where some violence occurred during Israel's military operation in Gaza in 2020, report that the streets are calm for now. Sheefra Blume, who recently immigrated from the United States, invited local residents of a communal WhatsApp group in Jaffa for a shared meal to support one another.
Because her building lacked a proper shelter, Blume planned to spend the night with a friend whose building was better equipped. But, she told me, "I am not considering leaving Israel."
Official statements from Israel's political and military branches are currently vague, as an assessment and counterresponse are in the works. It seems reasonable to expect that after Israel's worst military disaster in 50 years, the coming response will also be unprecedented in its scope and damage.
As the holiday sun set, a nervous country transitioned to the start of an unexpected war and the beginning of a mass week of national mourning and hard questions.
For me, the next few days are uncertain, as I am not yet sure when it will be advisable to return to the center of the country, and to my routine. Emotionally, I fear that it will be impossible. And I know that many others have it far worse.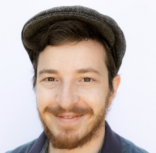 is a journalist living in Jaffa, Israel.
The views and opinions expressed in this article are those of the author and do not necessarily reflect the views of JTA or its parent company, 70 Faces Media.