SAN FRANCISCO (JTA) — My high school does not have a Jewish community, and it is part of a public school system whose teachers union endorsed a boycott of Israel in 2021. So the only Jewish community I have is at my synagogue. Beyond its walls I feel silenced.
I woke up Saturday morning to my mother asking me to talk about something serious at breakfast. I didn't think much of this because I hadn't checked my phone yet. My heart dropped when I learned Israel was attacked. I have family in Israel, and I know many people who have family in Israel. There was no other way to put it: I was scared. It lingered in my mind as I watched the Navy's Blue Angels jets fly over San Francisco's waterfront during the weekend's Fleet Week celebrations, thinking about the rockets flying above Israel. I prayed for Israel that night but woke up Sunday to even more sad headlines.
That morning I headed to temple, where I teach Sunday school to third graders. It was no surprise we had fewer than 10 kids out of the 30 on the roster; many parents were apparently worried that the synagogue might be a target for protests or attacks. One little girl asked me where everybody was. We had a morning meeting discussing what had just happened, and we were told to be vague, to not answer questions, and to direct them to the lead teacher if the children did ask. I shook my head and told her, "I don't know, I guess they had other things to do today." 
My temple had prepared a celebration for Simchat Torah. Instead, we gathered with other synagogues in the city at Congregation Sherith Israel to mourn the lives that were lost in Israel. As I headed home with a heavy heart, I read more and more articles being shared, but I was still left with so many unanswered questions, and I didn't know what to say or do. My Jewish and non-Jewish friends ask me how I feel, and I don't know exactly how to answer. I know I stand with Israel, but how do I know what is really going on when blame is being thrown in every direction?
I ended up calling one of the rabbis at my temple, and I asked him my questions and shared what I had seen on social media. I learned what is fueling the ongoing war and why it is so difficult to agree on one narrative because both sides want the same piece of land. I also learned that you can't change anybody's mind while trying to speak yours, for example speaking out against the antisemitism that Hamas represents. Some people will say that Israel had it coming, but then again, they listen to their families, and they stand with their own people.
I know people will be talking about this at school. I am not sure how to respond if somebody asks me about it because of how delicate this is for everybody. After the teachers union voted for the Israel boycott, my parents were questioning my sister's and my safety in this district. I have no Jewish friends at school; I have nobody with whom I feel comfortable talking about Israel. I have my phone and I can call people from my temple, but it isn't the same. If I wanted to talk about it, I would have to be extremely careful about what I say because I know how many people disagree with me. Many believe the Hamas attack was justified, while I believe it was terrorism. These kinds of disagreements can be dangerous. Palestinian protesters gathered at the Israeli Consulate in San Francisco to support the attack on Israel as a legitimate fight against "oppression," and countless others say that the attack on civilians — including women, children and the elderly — was an act of "resistance." How is this the resistance if Hamas are ultimately hurting the Palestinians too? 
It can be scary to openly identify as Jewish, but I do not hide that I am Jewish at school because I am proud of who I am and where I come from. Yet I have heard countless remarks about Jewish people in my school that make the antisemitism in this country truly personal for me. For example, when I told my "friends" that I was going to Jewish camp over the summer, somebody responded saying, "Is it Auschwitz? Because that's a Jewish camp." 
I really couldn't hide my shock, and as much as I try to shake comments like that one off, I suspect I will hear such comments now more than ever. I am not ready to get into heated arguments about who has been more violent, nor do I want to. For now, I will stand with Israel the way I stand for the Amidah prayer: proud, straight-backed and silent.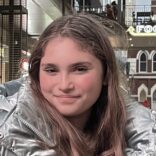 is a writer and tenth grader from San Francisco and is frequently published in YR Media.
The views and opinions expressed in this article are those of the author and do not necessarily reflect the views of JTA or its parent company, 70 Faces Media.