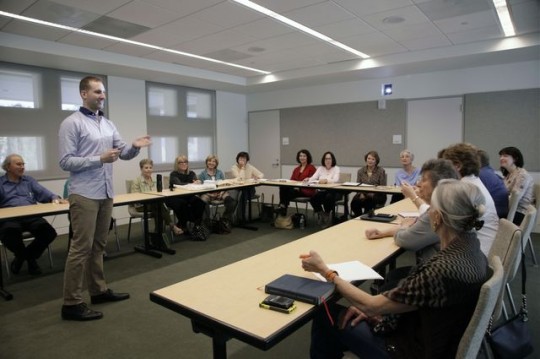 UCLA doctoral student Bryan Kirschen leads a weekly class in Ladino, the Judeo-Spanish language that's quickly disappearing, at the Skirball Cultural Center in Los Angeles. He also created a network of seniors who can swap stories and proverbs in the language of their ancestors.
"The community members have been so excited, because for many of them, this is the first time in their life where they're like, wow, there's actually people who want to learn this language," Kirschen said in a phone interview.
The dialect mixes Medieval Spanish with elements of Hebrew, Aramaic, Arabic, and Turkish, and, to a lesser degree, Greek, French, and Italian. It was the language of the Jews in Spain prior to their expulsion in 1492, and they brought it across the Ottoman Empire.
Kirschen has also directed the documentary Saved by Language, about a Sarajevo Jew who claims his knowledge of Ladino helped him escape the Nazis.
Kirschen isn't the only one on the Ladino bandwagon. Seattle's Sephardic Jews have a conversation group and a Ladino library, and there are classes on Sephardic language and culture at Yeshiva University, Tufts and University of Pennsylvania. The last remaining stronghold is Israel, where about 100,000 Ladino speakers live.
(Photo courtesy of UCLA Office of Media Relations and Public Outreach)