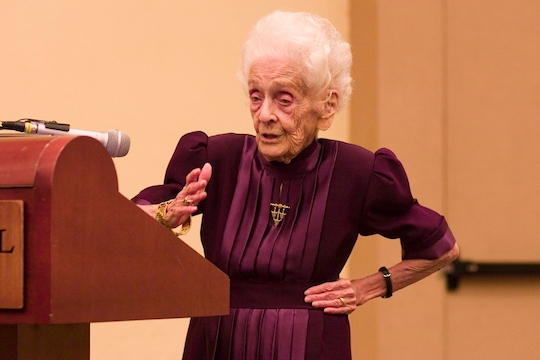 Born in Turin, in northwestern Italy, on April 22, 1909, Rita Levi-Montalcini had began her research on nerve cells at the University of Turin. But after being banned from the university in a purge of Jews in 1938, and then forced to hide during the Nazi occupation of Italy, she immigrated to the United States and joined the faculty of Washington University in St. Louis, Missouri in 1946.
There, she worked in a lab with Dr. Stanley Cohen, with whom she shared the 1986 Nobel Prize, from 1953 – 1959. Their work–and their discovery of the Nerve Growth Factor (NGF)–laid the foundations for research into cancer, Parkinson's, and ALS.
Rita Levi-Montalcini passed away on December 30, 2012 at the age of 103. She had continued to work until shortly before her death. In 2009, as Levi-Montalcini celebrated her 100th birthday, she said, "At 100, I have a mind that is superior, thanks to experience, than when I was 20."
___
This post is the third in a four-part series between Kveller, the Jewish Women's Archive, and Jewniverse, commemorating women in STEM (science, technology, engineering, and mathematics) for Jewish American Heritage Month. Every Monday in May you can look forward to a new post about a Jewish woman who helped to lay the groundwork for women in science today.