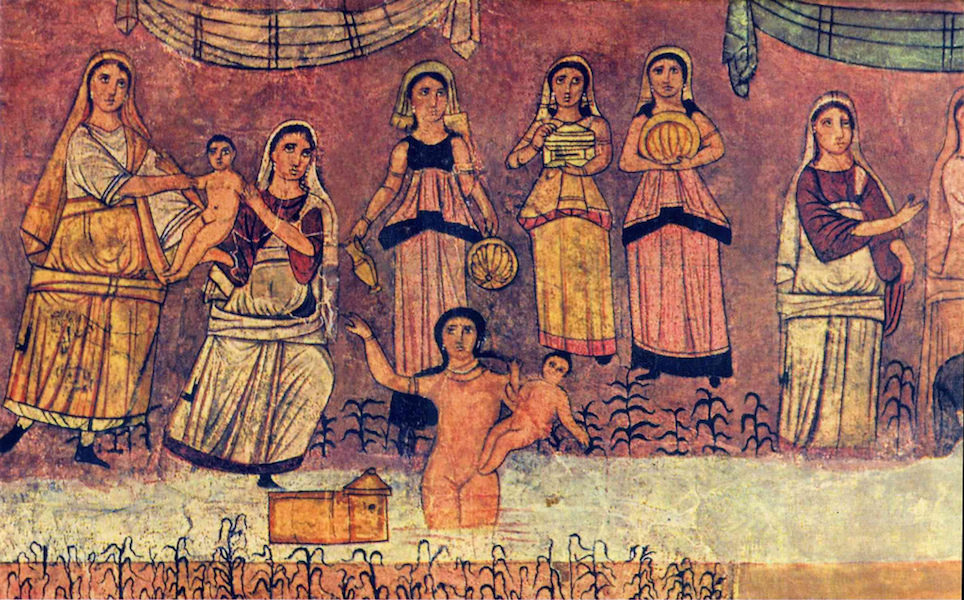 In 1932, the nearly intact ruins of a synagogue were excavated in Dura-Europos, a former garrison and trading center on the Euphrates river in eastern Syria. The shul's construction was traced back to 244 CE, making it one of the oldest in the world—at least until ISIS destroyed it in 2013.
Other than its prodigious age, what made the synagogue remarkable were its extraordinary wall paintings. Not fresco, but tempera over plaster (a fast-drying paint made from egg yolk), the paintings are elaborate and gorgeous, depicting narratives from the Torah: Moses leading Hebrews from Egypt, Moses receiving the Ten Commandments, Isaac's close-call, and Ezekiel's insane visions.
Scholars have speculated that the Greco-Roman style wall-work was probably done by different artists, and may have served an educational purpose. It's also thought that the art, unusual for synagogues, found its genesis in a desire to compete with the other major religions—competition bred beauty. Like Miss America, for ancient synagogues. And it explains why the original archaeologists mistook it for a Greek temple.
Fortunately, the wall paintings were safely moved from the site long before ISIS destroyed the place of worship. Tiles can be seen at the Museum of Hebrew University in Jerusalem, and the walls themselves are on full, reconstructed display at the National Museum of Damascus. But we don't recommend going there.
Photos from Wikipedia