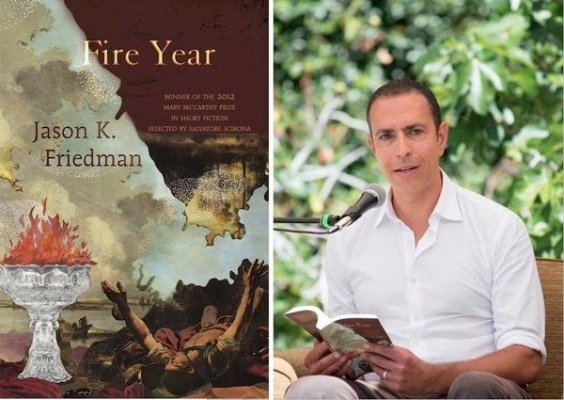 One of the most classic setups in fiction is to place a stranger in a strange land. In Jason K. Friedman's case—whose debut story collection, Fire Year, is out with Sarabande Books—the stranger is gay, Jewish, American Southern (or all three), and the strange land is Georgia.
Friedman, born and raised in Savannah, Georgia, himself, offers seven fine stories that explore the tensions of religion, identity, race—all makings of good, sophisticated fiction—with a healthy knack for levity and an admirable, if uneven, range of style and substance.
Winner of the 2012 Mary McCarthy Prize for short fiction, Fire Year opens with "Blue," the story of a Bar Mitzvah boy trying to conceal a disinterest in girls around a friend, and who is perhaps too into his Bar Mitzvah to be cool. "There's Hope for Us All"—a highlight—follows an assistant curator who discovers something very scandalous about an obscure Renaissance painter. The story brings Atlanta's moneyed art world to life.
Friedman's influences are clear: "Reunion," a compelling but ultimately unsatisfying story, takes place during a high school reunion, with characters and a setup that echo Philip Roth's American Pastoral. But other than an opening that, like a desperate ninth-grader's term paper, defines the titular word for us, "Reunion" offers thrills that make the sometimes-off Fire Year worth its price alone.