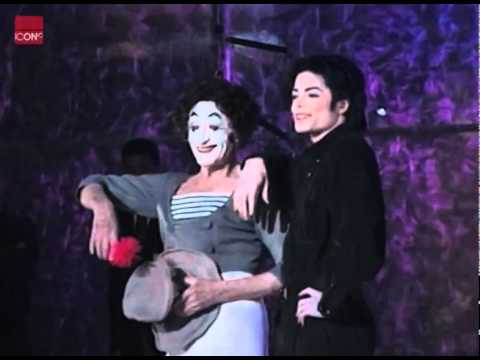 Did Michael Jackson take his most famous dance move from a Jewish mime? We revisit this myth on what would have been the King of Pop's 53rd birthday.
[[READMORE]]
Born August 29, 1958, Michael Jackson was long rumored to have borrowed the moonwalk from the legendary French mime Marcel Marceau. This alleged association ran in Marceau's 2007 obituary in JTA:
His inspiration was Charlie Chaplin, and Marceau would inspire countless performers, notably Michael Jackson, who borrowed the "moonwalk" from the mime's "Walking Against the Wind" sketch.
In that same article appeared this well-known biographical fact:
Marceau was born Marcel Mangel to Jewish parents in Strasbourg, France. He changed his name to Marceau to hide his Jewish origins when the Nazis marched into eastern France and he fled with family members. His father was sent to Auschwitz in 1944 and did not survive.

Marceau and his brother Alain worked with the French Resistance to protect Jewish children.
In 1995, Michael Jackson was slated to appear in "One Night Only," a televised HBO concert at the Beacon Theater in New York City, featuring a portion choreographed by Marceau. While the two managed to fit in a photo op, the event was abruptly cancelled when Jackson fainted during a rehearsal just days before showtime. "Mr. Jackson was in critical condition," recalled Beth Israel physician Dr. Bill Alleyne in a 2009 interview with the Rock Hill Herald. "He was dehydrated. He had low blood pressure. He had a rapid heart rate. He was near death."
So did Jackson jack the moonwalk from Marceau? Not so clear. As pointed out in a KQED blog post titled "Moonwalking Through History," Cab Calloway, Bill Bailey and David Bowie were all caught on film performing moonwalk-like moves well before MJ. Bowie did train with Marceau's choreographer, Étienne Decroux. But at least according to Jackson's camp, neither Ziggy Stardust nor Marceau taught Jackson the famed feat-of-the-feet.
In an interview televised as part of the 2003 TV documentary "The Michael Jackson Story," LaToya Jackson credited choreographer Jeffrey Daniel with teaching the famed dance move to brother Michael, without making reference to Marceau:
The moonwalk was a dance that the kids were doing on the street. And Michael came along later and he had a guy by the name of Jeffrey Daniels [sic] to teach him to do the moonwalk. And Jeffrey talk him to do the moonwalk; and he was good at it. And when he did it, everybody saw it and just thought this was the most wonderful thing they had ever seen, not knowing that this was a dance that was already out there.
After Marceau's death in 2007, a Jackson interview with Black entertainment magazine JET seems to corroborate his sister's claim about the widespread popularity of the dance. "While he learned a lot from Marceau," wrote Joy T. Bennett, "Jackson said that his moonwalk step, popularize in 1983, was instead inspired by 'watching the great, rhythmic, wonderful Black children dance around the world.'"
Regardless, it's clear that Jewish muse of movement profoundly inspired Jackson. "He was a great guy. I used to go see Marcel Marceau all the time, before Off The Wall," he told Bennett, referring to his 1979 solo album. "I used to sneak in and sit in the audience and watch how he would defy the laws of gravity, like he was stepping on air."