As day four of the 2012 London Olympic Games wraps up, an emerging star rises above most of the American Olympic Team, which has been pretty average so far. Her name is Alexandra "Aly" Raisman. She is a Jewish gymnast from Boston. Here are a few more things you should know about her:
1. She dances her floor routine to "Hava Nagila"

And her routine in the Women's Team finals for team USA was ranked number 1 and won the gold for team USA!l! USA! USA! USA!
2. A video of her parents cheering for her in the Olympics instantly became a viral hit
"Stick it!, Stick it! Ahhh!"
Apparently Raisman's parents, Ricky and Lynn, are now the biggest Olympic celebrities (and also the most Bostonian people ever).
3. Because of stupid Olympic rules, she is a dream crusher

World champion gymnast Jordyn Wieber of U.S.A. failed to qualify for the individual all-around finals, after both Raisman and fellow American gymnast Gabby Dougles finished ahead of her in the qualifiers over the weekend — Wieber finished fourth, which would have otherwise been good enough to move one, but… Olympic rules allow only two gymnasts from each country to qualify. Wieber broke down and cried, and a video of an NBC reporter interviewing gleeful Raisman with Wieber crying in the background has gained popularity.
4. And she was just as surprised as all of us when she found out she made it
I cried too
5. She is an athlete and a scholar

Raisman is a recipient of the Pearl D. Mazor Outstanding Female Jewish High School Scholar-Athlete of the Year Award, given out by the Jewish Sports Hall of Fame in New York.
6. And she can do things that most of us can't even think about doing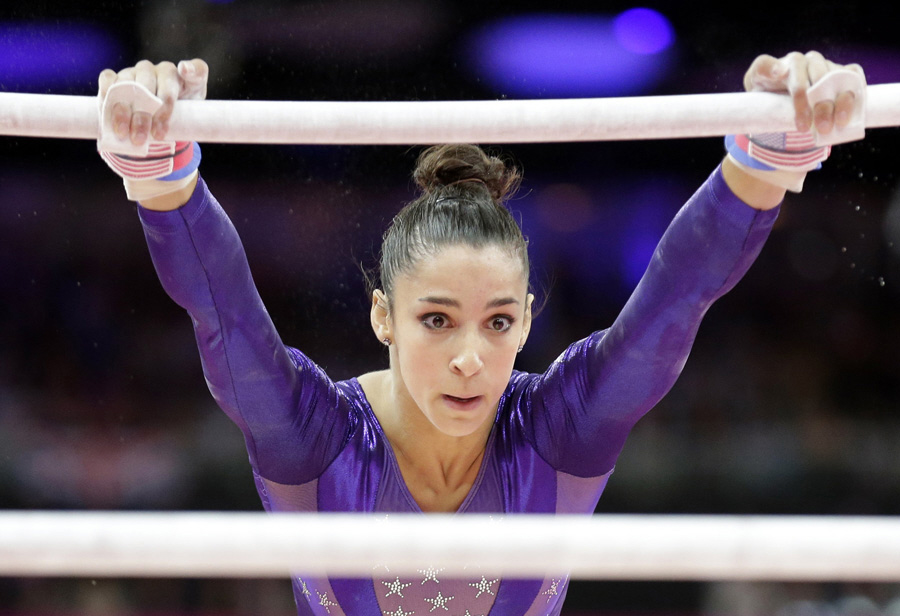 Seriously, what is with the uneven bars?! It looks like a Spanish Inquisition torture machine.
Raisman is set to compete in three more events, individual all-around, beam and floor. Good luck Aly, bring home the gold!