Yesterday we showed you how adorable (and resourceful) Mila Kunis was as an 11-year-old girl in the unforgettable show "Baywatch."
And if Mila did it, there's no shame, so we decided to dig a little deeper into the wonderful world we call television, movies and commercials of the 1980s and 1990s, and show you other famous Jewish celebrities who had to work their way up to the top of the acting world. Some of them started as a lead in a feature film, others had to use their young acting talents (and raw cuteness, we're looking at you Sarah Michele Gellar) to promote a burger chain.
1. Natalie Portman
Age: 13
Role: Mathilda Lando in the 1994 French (English-speaking) film "Léon: The Professional."
Plot: Portman's first major role was really serious, actually. She played a seductive 12-year-old girl who smokes cigarettes and comes from an extremely dysfunctional and abusive family.
What she's been doing since: Portman continued to have minor roles throughout the 90s, until her breakout role in 1999 as Princess Padmé Amidala in the "Star Wars" prequel trilogy. She later had a few lead roles, including an unforgettable role as Evey Hammond in "V for Vendetta" for which she had to shave her head, and then later won an Academy Award for her role in the 2010 film "Black Swan," making her one of the most beloved actors in Hollywood, especially among Jewish fans (including this blog).
2. Shia LaBeouf
Age: 14
Role: Louis Stevens in the Disney Channel show "Even Stevens," 2000-2003
Plot: LaBeouf was the ultimate annoying little brother – rude, selfish, prankster and mostly just disgusting. His older sister, Ren, was played by Christy Carlson Romano, another Jewish actress who unfortunately hasn't been doing as well as Shia.
What he's been doing since: LaBeouf's career has been a roller coaster. He had a few roles after the show ended but his breakthrough came in the movie "Disturbia," and later in Michael Bay's "Transformers" series. Towards the end of the decade, LaBeouf earned himself a reputation as a Hollywood problem child, or a grown-up Louis Stevens, if you will, with fights, drunk driving and other incidents. Lately LaBeouf  says he will focus on acting in independent films, and in addition appeared naked in a music video.
3. Alyson Hannigan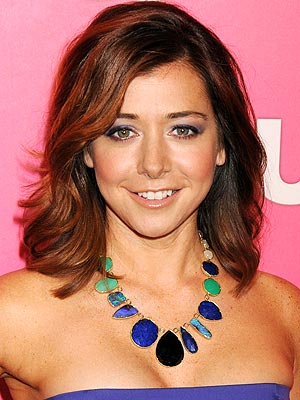 Age: 14
Role: Jessie Mills in the 1988 movie "My Step Mother Is an Alien."
Plot: In this 80s-beyond-belief sci-fi comedy, Hannigan plays Jessie, the young daughter of Steven (Dan Aykroyd) who notices that the woman her father is about to marry (Kim Basinger) acts funny, almost as if she was, well, you could probably figure it out by the title.
What he's been doing since: To sci-fi fans Hannigan she is Willow Rosenberg of "Buffy the Vampire Slayer." To teen movie fans she is Michele, the kinky band geek from the "American Pie" series. To prime-time CBS comedy fans Hannigan is Lilly, Jason Segel's wife in "How I Met Your Mother," a role she began in 2005 and is still doing, while raising her two children in real life. My personal favorite is this 1990s commercial for Mylanta Anti-Acid medication.
4. Joseph Gordon-Levitt
Age: 10
Role: David Collins in the NBC vampire show "Dark Shadows," 1991
Plot:Gordon-Levitt played young son David, a troubled kid who claims he sees ghosts.
What he's been doing since: While "Dark Shadows" was short-lived and survived just a few months, JoGo's career has been blooming since its inception (haha). Levitt was the young adorable kid who conveniently also saw ghosts in "Angels in the Outfield." After that he went back to television as Tommy and his classic 90s hairdo on "3rd Rock from the Sun." More recently he's shown up in "(500) Days of Summer," "Inception," "The Dark Knight Rises," and as Robert Todd Lincoln, the son of Abraham, in Spielberg's "Lincoln." Gordon-Levitt is also slowly but surely reaching Hollywood heartthrob status.
5. Scarlett Johansson

Age: 12
Role: Amanda in the 1996 film "Manny & Lo"
Plot: Johansson played Amanda, an 11-year-old girl who together with a 16-year-old girl name Laurel runs away from their foster home and kidnap a woman.
What she's been doing since: While "Manny & Lo" wasn't ScarJo's debut role, it was definitely the one that jump-started her career. Of course, it wasn't until acting alongside Bill Murray in the 2003 Sophia Coppola film "Lost in Translation" that she earned star status. ScarJo is now the highest-paid actresses in Hollywood thanks her role as Black Widow in "The Avengers" franchise and is generally a very attractive human being.
6. Daniel Radcliffe

Age: 12
Role: Young David Copperfield in the BBC One adaptation of Charles Dickens' "David Copperfield," 1999
Plot: Dickens' classic tells the story of David Copperfield from early childhood (Radcliffe's role) to adulthood.
What he's been doing since: After finishing the ultimate test of every British actor – portraying a character from British Classic (Shakespeare, Dickens, etc.), DanRad earned the role of a lifetime: young wizard Harry Potter. In addition, Radcliffe has appeared on Broadway several times, notably starring in "How to Succeed in Business Without Really Trying" until earlier this year. He recently finished portraying American poet Allen Ginsberg in the film "Kill Your Darlings," which will be released next year.
And our personal favorite
7. Sarah Michelle Gellar

Age: 4
Role: A little girl who prefers Burger King over McDonald's in a 1981 Burger King commercial
Plot: Adorable Gellar is upset about McDonald's having 20% less meat than Burger King and she's not afraid to show it.
What she's been doing since: Nothing as cute as this, obviously. But Gellar continued to appear in some commercials and television shows until being cast in the soap opera "All My Children" in 1992. Five years after she earned the lead in the 1997 TV series "Buffy the Vampire Slayer," a role that earned her the title of being the biggest fantasy of late 90s vampire geeks (before vampire became a teenage girl thing). Lately she tried to make a comeback in the CW show "Ringer," but the show was canceled after one season. I bet that was almost as upsetting as finding out about McDonald's shortcomings.