Forget Iran and anti-Semitism. Lavie Tidhar and British fantasy author Rebecca Levene's newly released short-story anthologies "Jews Versus Aliens" and "Jews Versus Zombies" (both published by Jurassic London, with all profits going to MOSAC, a British group that assists victims of child sex abuse), have Jews literally taking on a whole new world of challenges.
Tidhar, 38, spoke with JTA by email this week.The Israel-born and London-based author/editor is also the World Fantasy Award-winning author of "Osama" (2011); his other books are "The Violent Century" (2013) and "A Man Lies Dreaming" (2014).  The interview has been condensed and edited.
We all know about Isaac Asimov, but beyond him who are some of the other major Jewish science fiction authors?
I think there has always been a high percentage of Jews writing science fiction, though I couldn't tell you why that is. This is in somewhat paradoxical contrast to fiction in Israel, which for the most part rejected fantasy fiction until recent years.
Saying that, though, we didn't set out to find only "kosher" Jewish writers. What we asked for was just a connection with Judaism, a feel for it. We didn't want to go into the question of "Who is a Jew"! We managed to get a whole range of people, from all across the Jewish world. I was especially pleased that we were able to get several Israeli writers involved, despite the language barrier.
Is there anything particularly Jewish about the stories in the anthologies?
Several of the writers took the liturgical approach: Benjamin Rosenbaum's "Tractate Metim 28a" is a case in point. I think part of the fun of the anthology, part of the challenge, was to take something that isn't usually associated with Jewish writing — aliens, zombies — and make something new with it.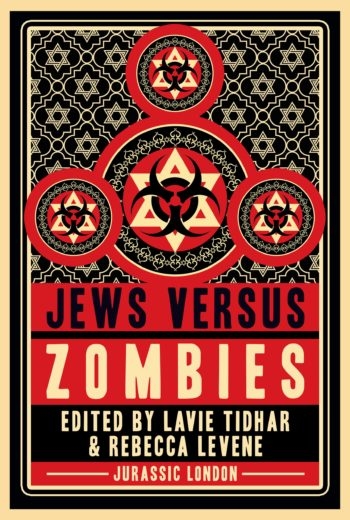 Where did you get the idea for these anthologies?
I can't honestly remember now. I kept floating it about, and I was talking to Rebecca Levene in the pub one night, and she totally got it. So she got in touch with me the next day and said, you know, you really need to do this. So I roped her into doing all the hard work! Without Rebecca I think it would have just stayed a ridiculous idea.
Tell me a little about your background and how you got into writing fantasy and sci-fi.
I grew up on a kibbutz in Israel — a good preparation, perhaps, for writing strange fiction! I've lived widely elsewhere, though, including South Africa, Vanuatu and Laos, but I am based in the U.K.
I've always been attracted to the weird in fiction, though my novels in the past few years have been utilizing certain genre conventions to interrogate the political realities of the 20th century. I grew up reading translated science fiction, though, and it was a source of great joy for me to become a part of that field. At its best, science fiction offers us a startling new way of looking at the world — and isn't that the purpose of good literature?
I can best answer that with a little story. I was stopped in the street once by a young man who wanted me to go to church with him. I gently explained I was Jewish. "Oh," he said. "Do you practice?" "No," I said. He looked disappointed, so I explained I didn't need to. "You see, I am already pretty good at it," I said.
Can you tell us a bit about some of the stories in the anthologies and what a reader might expect to find?
 It's a real mix: from dark comedy and satire to some thought-provoking philosophical reflection. We have literary writers and genre writers, and TV and games writers, and they all bring a different angle to their stories. In "Jews Versus Zombies" we didn't look particularly for horror stories, which I think would have been the obvious thing to do. We wanted the writers to have fun with the concept, and see how they can surprise us. So we have beautiful grotesque stories like Rena Rossner's "Rise," literary philosophical examinations like Shimon Adaf's "Like A Coin Entrusted in Faith," and a fair amount of comedy, actually.