Nadja Spiegelman, daughter of Art Spiegelman of "Maus" fame, together with her mother, Francoise Mouly, the New Yorker's art director, are putting together a collection of cartoons titled "RESIST!" This collection focuses on the theme of "political resistance to the forces of intolerance" and includes many anti-Trump images and responses to the recent rise in anti-Semitism.
The collection is being published as a special issue of Smoke Signal, a quarterly tabloid comics anthology published by Desert Island, which has a comics store in Brooklyn. Gabe Fowler, the owner of Smoke Signal, was the one who proposed the idea and invited Mouly to organize the project.
Nadja Spiegelman, also the author of a memoir and three graphic novels for children, reported that over 500 submissions came in for "RESIST!" just in the first week alone, some of which have already been posted online. Some submissions have come from well-known cartoonists, like Roz Chast, others from less known artists. Although they are accepting submissions from everyone, Spiegelman and Mouly want to devote a significant amount of attention to women's concerns.
One image by Rumi Hara shows five women of different professions (including an astronaut, a lawyer, and an artist) marching forward with the caption "Women Will Fight. And These Are Our Weapons of Choice."
Another black and white cartoon by Christa Cassano shows a bald eagle flying against a background of the American flag and pulling off Donald Trump's hair, leaving him pouting with a visibly tanned face and pasty white scalp.
"We've clearly hit a nerve," Spiegelman told Gabe Friedman at the JTA. "There's such a need that people have, especially artists, to find ways to begin to pick up a pen and fight against this. Now more than ever we do need to use our voices and make them as loud as possible."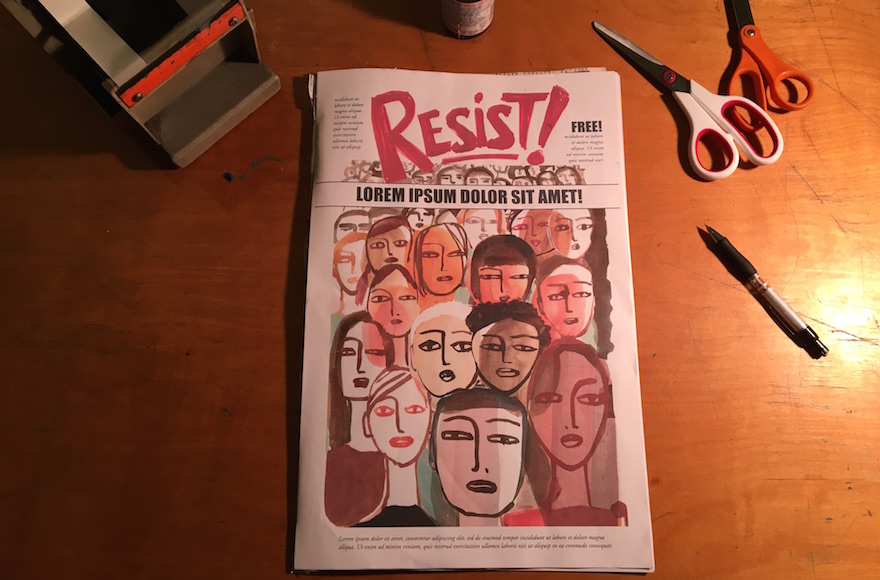 This issue will debut on Inauguration Day in January, when 30,000 copies will be distributed for free in Washington, D.C. and then at women's marches throughout America.
In addition to the print collection, Spiegelman would like to create an online archive of these images to encourage the development of a community of artists working together.