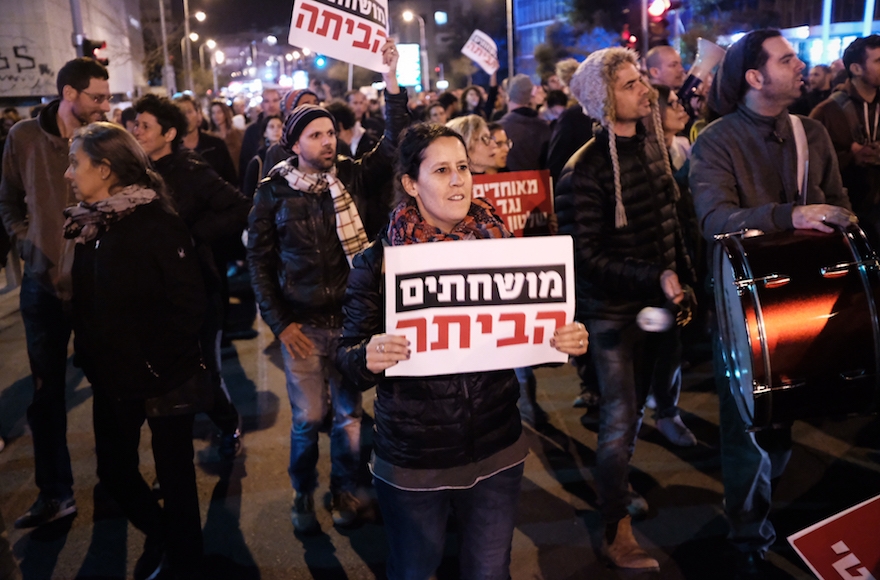 JERUSALEM (JTA) — Thousands of protesters gathered in Tel Aviv to protest government corruption and support investigations into Prime Minister Benjamin Netanyahu.
It was the second Saturday night in a row that demonstrators have gathered in the city, starting near Independence Hall on the main thoroughfare Rothschild Boulevard.
The protests have been dubbed the "March of Shame." Among the signs carried by protesters were: "Out with the corrupt," "Not leftist, not rightist, but honest," "Being a pig isn't kosher" and "Bibi go home."
Many were protesting a bill currently making its way through the Knesset that would prevent police from going public with their recommendations of indictments in the highest profile investigations. Police are looking into Netanyahu on suspicion of corruption in two separate scandals. Last week, Netanyahu asked the bill's drafters to reword the bill so that it does not apply to the investigations.
The demonstrations in Tel Aviv came after a year of Saturday night demonstrations in front of the Petah Tikva home of Attorney General Avichai Mendelblit, to protest what they say is a slow-down in investigating the allegations against the prime minister.
Various reports said 10,000 and up to 25,000 people came out for the Saturday night protest. Demonstrations also were held in Nahariya, Hadera, Afula, Netanya, Rishon LeZion, Modiin, Jerusalem and Beersheba, according to Ynet.
The Tel Aviv protesters marched to several areas of the city, including the Habima Theater and the Kirya military headquarters, leading to the shutdown of some city streets.
Netanyahu's Likud Party issued a statement criticizing the protest. "Instead of uniting behind Jerusalem, along with all other Israelis, thus presenting a united front to the world, the left cannot help itself and prefers dealing in divisiveness," the statement said.