Orli Santo's moving article on the lamented closing of the legendary Cornelia Street Café ("Israeli Musicians Blue Over Cornelia Street's Demise," Dec. 21) is deficient in a crucial respect.
Inexplicitly missing in the article is any mention of Cornelia Street's visionary founder and long-time grand poobah, Robin Hirsch. Hirsch, an Oxford-educated Brit and a child of Holocaust survivors, is the author of the classic post-Holocaust memoir "Last Dance at the Hotel Kempinski."
In addition to being a creative impresario who brought not only jazz but cutting-edge literature to the café, Robin was active in theater, in Europe and in the United States, for decades, teaching, acting, directing and producing.
Robin Hirsch was Cornelia Street; Cornelia was Robin.
Manhattan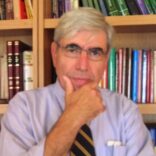 is co-editor with Mark Silk of "The Future of Judaism in America" and the author or editor of four previous books and more than 100 articles, reviews, book-chapters and encyclopedia entries on Jewish public affairs, history, and arts and letters. Forthcoming is a book setting a historical and societal context for 100 years of Israeli theater.
The views and opinions expressed in this article are those of the author and do not necessarily reflect the views of NYJW or its parent company, 70 Faces Media.