(JTA) — Many people think of Purim as a children's holiday — unadulterated joy, fun and merriment. But I have come to see it as a profound moral commentary on what it means to hold power, and a cautionary tale about what happens when we fail to do our part to break the cycle of violence when the power is in our hands to do it.
I have been living with my husband Rabbi Aryeh Cohen's interpretation of Megillat Esther — the biblical book read on the holiday, which begins Monday evening at sundown — for more than 29 years now. It initially caught me off guard during a discussion while we were still dating, back in 1993: "You know, of course, that Purim is all about confronting the impossibility of redemption." (Of course?!) In short, the king's viceroy Haman decides capriciously that the Jews must be killed, and the king agrees. It is only after the Jewish heroine Esther marries the king and convinces him that her people do not deserve to be killed does he change the decree, and the Jews are saved. Redemption!
This happy ending is accompanied by another decree, however, in which the Jews are given permission to slaughter those who were going to slaughter them. To authorize this violent self-defense, the king takes the royal ring, a symbol of his authority, from the corpse of Haman and gives it to Esther's Jewish cousin, Mordecai. 
Writes Aryeh: "The question we are left with is this: In the next scene, the scene after the end of the megillah, who will get the ring then? … We suspect that another Haman will get the ring, then another Mordecai, forever." 
Visions of this unredeemed world were on view in recent days as we watched the multi-directional, free-flowing hate catching fire in America, in Israel and in the West Bank. These weeks leading up to Purim have felt all too much like the horrifying parts of the megillah: the reality of Jewish vulnerability in the face of mercurial antisemitism at its beginning; the wielding of Jewish power in a revenge fantasy at its end. 
For me, this megillah started two weeks ago when two Jewish men — Persian, like Mordecai — were shot within a block or two of my Los Angeles house simply because they were Jewish men. The shooter had fallen into a conspiracy rabbit hole and believed that Jews had manufactured and released the COVID-19 virus in an attempt to target Asians. Thank God, both men will recover, and I hope that the shooter can recover from his own misguided hate, too. When politicians, media and others play with rhetorical fire and boost conspiracy theories, it lights the torches of vulnerable people, and we all get burned. 
Then last week, I watched through waves of nausea as the end of the megillah was reflected in the West Bank, following the killings of Israeli brothers Hallel and Yagel Yaniv, by a Palestinian shooter. There, Jewish acolytes of Baruch Goldstein, who slaughtered 29 praying Palestinians 29 years ago on Purim, took a break from marauding in the Palestinian village of Huwara to offer their evening prayers. In the video that was circulating, the settlers were reciting the words of Kaddish, the prayer for the dead, sometime before or after a resident of nearby Zu'tara, Sameh Aqtash, was shot and killed. They were not reciting the Kaddish for him. Few participants in the pogrom have faced consequences. But the Israeli army has attacked Israelis protesting it.
There were other horrors in between, both here and there — and more since. Innocent Palestinians were killed and injured during military raids in the West Bank. A recent college graduate, the dual American-Israeli citizen Elan Ganeles, was shot to death as he headed to a friend's wedding in Jerusalem.
And here in the United States, a "Day of Hate" called by far-right antisemitic group put Jews on alert throughout a recent Shabbat.  
For these past weeks and months, it has felt like Jews are being squeezed between our vulnerability as Jews here in the United States and Israel and the contortion of Jewish power in Israel — quite literally in the case of the militant Itamar Ben-Gvir, Israel's minister of national security, whose party is known as Otzma Yehudit, or Jewish Power.
On the eve of Purim we need to think about what it means to change the story — for everyone.
In the United States, that means building strong and deep relationships that keep us all safe. California state assembly member Isaac Bryan offered a model at a town hall following the shootings here, when he said that Black and Jewish solidarity looks like "thriving, safe, and healthy communities from Pico-Robertson to Leimert Park." Bryan names the most identifiable Jewish and Black neighborhoods in Los Angeles to remind us that all Angelenos' fates are connected. That if we show up for one another and ensure one another's physical and economic safety and well-being, the city becomes a better place for all of us.  
In Israel, it means recognizing that the Israeli government and those that have empowered it are currently "holding the ring" of power. If they continue to act with unrestrained power to terrorize and dispossess Palestinians, or simply allow settlers to do this with no repercussions, they fail to heed the words of Isaiah: "And when you lift up your hands, I will turn My eyes away from you; Though you pray at length, I will not listen. Your hands are stained with crime" (1:15).
When the Israeli nonprofits Tag Meir and Standing Together organized solidarity trips to Huwara last week, they were taking Isaiah's admonition deeply to heart, refusing to turn their eyes and hearts away, walking toward the residents of Huwara and raising their voices against the settlers' hate and violence. Tag Meir was founded to counteract settler "price tag" attacks, and shows up for both Palestinian and Israeli families who have been impacted by violence. Standing Together is a growing group of Israelis and Palestinian citizens of Israel who organize for change. Both are working to change the end of the megillah in Israel and the Palestinian territories. 
In response to identity-based violent rhetoric, we must humanize those whom others would pit against us, while humanizing our own people, as well. There are many organizations that create spaces in which we can build relationships that create a variety of pathways for us to act on one another's behalf, ensuring safety and dignity for one another. In solidarity, we can write a new ending to our megillah.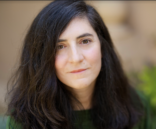 is the associate director of NewGround: A Muslim-Jewish Partnership for Change (https://mjnewground.org). She lives in Los Angeles.
The views and opinions expressed in this article are those of the author and do not necessarily reflect the views of JTA or its parent company, 70 Faces Media.