This article was sent as a newsletter. Sign up for our weekly Jewish sports newsletter here.
Hello there! Do you live in New York or know a sports fan who does? Come meet the team behind the Jewish Sport Report at a Nets game next week!
We are offering an exciting $62 package that includes: a ticket to the Brooklyn Nets preseason game against Israeli team Maccabi Ra'anana on Thursday, Oct. 12; a ticket to the Nov. 12 regular season matchup between the Nets and Deni Avdija's Washington Wizards; and a special Israeli Heritage Night Brooklyn Nets hat.
You can grab tickets here — see you there!
Meet JTA's 36 Jewish Student Athletes to Watch
The future of the Jewish sports world is in good hands.
You may have seen our list of JTA's 36 Jewish Students Athletes to Watch, which we announced earlier this week. It's an exciting group — there are Olympians, pro athletes, Division I stars and international champions. And they're all in high school or college.
If you're an avid Jewish Sport Report reader (we hope you are!), you may know some of their names already — like Elie Kligman, who was drafted into the MLB in 2021, or Sam Salz, the Orthodox Jew who walked onto the vaunted Texas A&M football team.
But there are lots of athletes on the list whose names you should know. Ava Brenner has won six junior national karate championships. JJ Harel broke a 42-year high jump record. Alexis Blokhina has already trained with Venus Williams. Maia Weintraub is the No. 4 ranked women's foil fencer in the United States. Jake Retzlaff could become the first Jewish starting QB at BYU.
Meet all 36 athletes here — and prepare to be impressed!
Halftime report
DON'T LET THE DOOR HIT YOU ON THE WAY OUT. A hockey player at the University of Michigan was booted from the top-ranked team after he and another varsity athlete were implicated in an incident of anti-LGBTQ vandalism outside a Jewish center on campus. The school's Jewish Resource Center has declined to press charges against the students, who made a public apology at a Shabbat dinner.
WHO BY FIRE(D). Speaking of unexpected exits, the San Francisco Giants fired Jewish manager Gabe Kapler last week after four seasons with the club. Kapler had won the 2021 National League Manager of the Year award after a 107-win season. The league's other Jewish skipper, Bob Melvin, will remain in his role with the San Diego Padres — despite many predictions that he'd also be out of a job.
NOT TOO SHABBY. Team Israel finished in sixth place in the European Baseball Championship, which included games just before and just after Yom Kippur to accommodate the team's religious players. Israel went 3-3 in the tournament, including a 14-1 blowout win over Switzerland and a rough 12-2 loss to the Netherlands. Israel will host the 2025 tournament.
OUCH. Israeli soccer star Manor Solomon will be out at least a couple months after tearing his meniscus during a practice with his Premier League club Tottenham. The injury means Solomon will miss Israel's next four Euro 2024 qualifying matches — the national team is set to face Switzerland and Kosovo next week and Romania and Andorra in November.
FREE STUFF! The Washington Wizards announced its promotional schedule for the upcoming NBA season, and Israeli player Deni Avdija is set to have a big week in late January. On Jan. 24, Wizards fans will receive a hat designed by the 22-year-old, and on Jan. 31, they'll get a bobblehead celebrating the small forward's fashion sense.
Jews in sports to watch this weekend
⚾️ IN BASEBALL…
The Division Series playoffs start Saturday, and four of the eight teams still in contention have a Jewish player (or two!). Here's the schedule — and some notes — for this weekend:
Saturday at 1 p.m. ET: The Baltimore Orioles host the Texas Rangers. The O's have not announced their rotation yet, but Dean Kremer is likely to start later in the series. It will be the Team Israel alum's postseason debut. Game 2 is Sunday at 4:07 p.m. ET.
Saturday at 4:45 p.m. ET: The Houston Astros host the Minnesota Twins. Alex Bregman has played in a (ridiculous) 86 playoff games in his career and is in the all-time top-10 in postseason RBIs, walks and runs scored. The 29-year-old is already a 2-time World Series champion. Game 2 is Sunday at 8:03 p.m. ET.
Saturday at 6:07 p.m. ET: The Atlanta Braves host the Philadelphia Phillies. For the Braves, ace Max Fried is slated to return from his stint on the injured list and start Game 2 on Monday. Braves outfielder Kevin Pillar will be playing in his first postseason since 2016. For the Phillies, catcher Garrett Stubbs has appeared in the last three postseasons — last year with Philly and the previous two with Houston — but has yet to have an at-bat.
🏈 IN FOOTBALL…
It's Week 5 in the NFL — here are the Jewish matchups to watch:
Sunday at 4:25 p.m. ET: Greg Joseph and the Minnesota Vikings host Taylor Swift's new favorite team, the Kansas City Chiefs.
Monday at 8:15 p.m. ET: A.J. Dillon and the Green Bay Packers face the Las Vegas Raiders.
(Jake Curhan's Seattle Seahawks and Michael Dunn's Cleveland Browns both have byes this week.)
🏀 IN BASKETBALL…
The NBA Preseason is here! This weekend, catch Domantas Sabonis, the All-Star big man who is converting to Judaism, and his Sacramento Kings against the Toronto Raptors Sunday at 8 p.m. ET
🏒 IN HOCKEY… 
As the NHL Preseason wraps up, watch Devon Levi and the Buffalo Sabres against Mark Friedman and the Pittsburgh Penguins tonight at 7 p.m. ET. At the same time, Jack Hughes and the New Jersey Devils face the New York Islanders. And tonight at 10 p.m. ET, Quinn Hughes and the Vancouver Canucks host the Calgary Flames.
⚽️ IN SOCCER…
Goalkeeper Matt Turner and Nottingham Forest play Crystal Palace tomorrow at 12:30 p.m. ET. ICYMI, check out our profile of the Jewish USMNT member here. Over in the MLS, Daniel Edelman and the New York Red Bulls play Toronto F.C. tomorrow at 7:30 p.m. ET.
Join the Jewish Sport Report in Chicago!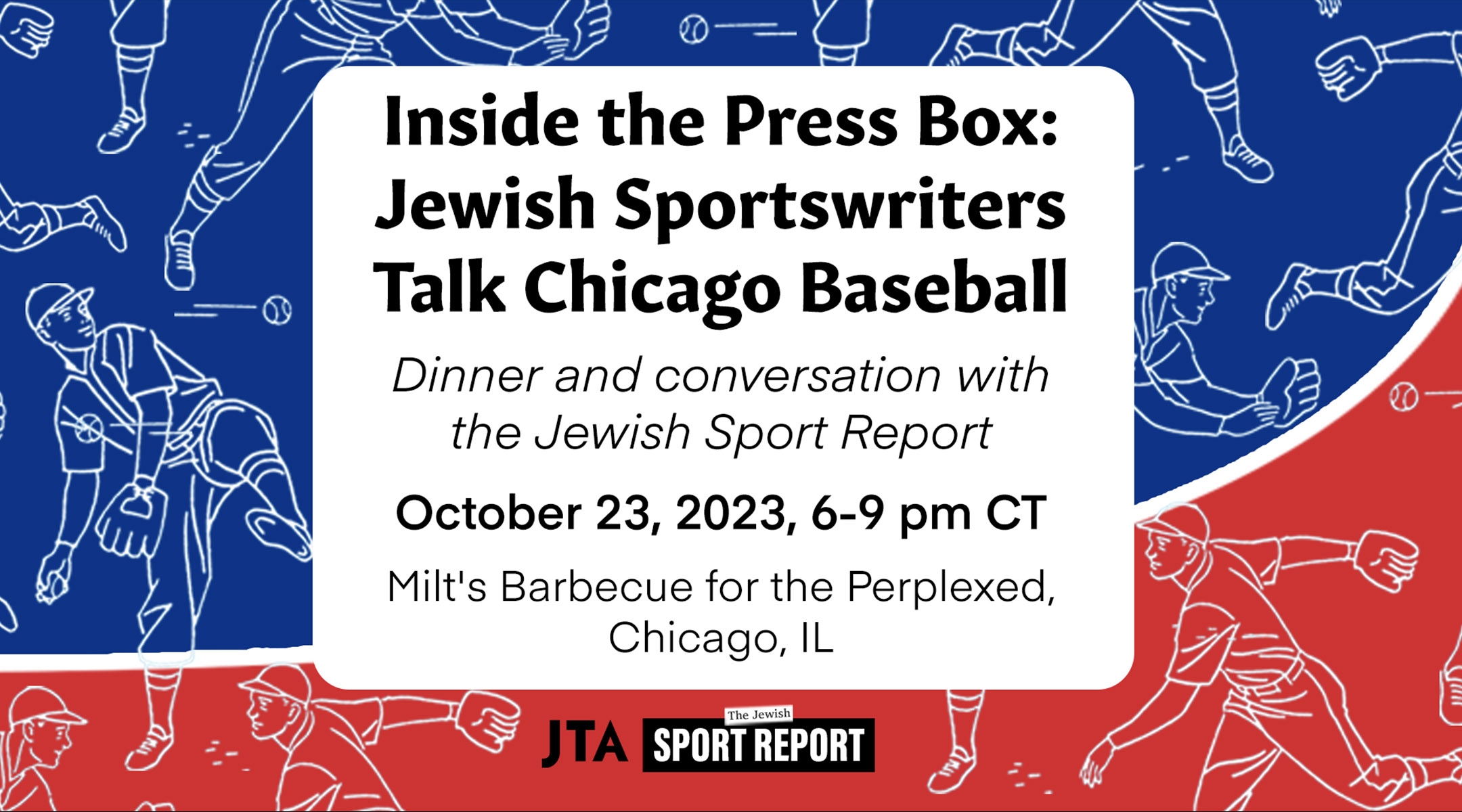 The Cubs and White Sox may not be playing in the postseason, but the Jewish Sport Report is headed to Chicago for an important matchup later this month. On Oct. 23, I'll be sitting down with an all-star panel of Jewish baseball experts to talk all things baseball and Chicago. Come join us!
We'll see you next week, and in the meantime, ponder this: which is taller? A rabbi holding a lulav or 7-foot-4 NBA prodigy Victor Wembanyama?