(JTA) — How to be a liberal Zionist at war?
For 10 months (much of it from Jerusalem itself) I watched Israel's most ultra-nationalist and religious government in history tear the country apart with a controversial package of judicial reform, increased subsidies to the ultra-Orthodox, and expansion of settlements and Jewish sovereignty in the West Bank.
The West Bank smoldered following settler terrorist rampages at Huwara, attacks on Israeli civilians on West Bank roads and towns and repeated incursions by the IDF to root out Palestinian Islamic Jihad terrorist cells. Palestinian statehood was increasingly sidelined by Israelis and Arabs alike in the pursuit of normalization agreements. Diaspora Jews agonized, condemned or just became more apathetic about Israel, and Western world opinion shifted against the state of Israel and her government. 
Everything changed on Saturday morning. News reports poured in about an unprecedented barrage of 4,000-plus missiles into Israel from Gaza and, most significantly, the infiltration of hundreds (if not more) Hamas terrorists into Southern residential communities. Some of them surrounded a crowd of festival-goers at a desert rave within Israel, killing, raping and taking men, women and children captives back to Gaza. I stared at my screens and feeds in disbelief.
I stayed up far too late on Saturday night trying to absorb the shock of the day's events — the colossal intelligence failure, the unprecedented breach of Israel's security barriers protecting civilian settlement, the fears for regional war. But by the time I awoke on Sunday morning, the horror had magnified beyond what I could have imagined: A professor with whom I was recently on a panel was killed in the South, my postdoctoral supervisor's daughter and son-in-law were murdered on a kibbutz as they saved their child, a friend of a friend's son and recent PhD in my field was kidnapped and is now confirmed dead. 
Many others posted about loved ones missing or killed, or tales of near escapes from terrible fates. Friends — my own age or older — submitted selfies in uniforms, having been called up as reservists. Parents posted about their panic over children in the army being sent to the front or returning to duty. Others expressed general fears from bomb shelters or safe rooms, wondering what happens next.
As modeled by friends who joined the pro-democracy camp week after week at demonstrations across Israel this summer but have now dutifully donned the uniform, volunteered to give blood and generally have come together to support a grieving nation, to be a liberal Zionist at a time of war means putting the love of Zion and loyalty to the people of Israel (as well as to a future peace with Palestinians) ahead of a loathing for Netanyahu and some of his partners and policies.
Liberal Zionists can acknowledge that both Israelis and Palestinians have suffered at the hands of corrupt and callous leaders who have not sought peace. A liberal Zionist can hold two ideas in their head at the same time in this historical moment: both that Israel can and must do what is necessary to defend herself and that a diplomatic solution to the Palestinian issue is the only way to avoid permanent war. Liberal Zionists can see merit in the Palestinian cause but full-throatedly declare that liberation cannot come by raining rockets over coastal Israel, murdering families in their homes or taking grandmothers and babies captive.
While liberal Zionists like me believe in free speech and the Palestinian cause for statehood, I can't find any place in my heart for those — like the pro-Palestinian protesters who gathered in New York, San Francisco and so many other places on Sunday — who celebrated over Israeli corpses. This is neither justice nor peace and a disgrace to the democratic public square.
Yet just as liberal Zionists must agree that Hamas is the aggressor to an unprecedented escalation perhaps only comparable to the surprise attack of the 1973 Yom Kippur War, they can admit that this emerges from a cycle of violence that goes back decades, ultimately to the unresolved existential arguments of 1948. As Gaza is no democracy, one can hardly know how average Palestinians there feel about or whether they support Hamas' attack (even as we know that successive generations of Israeli young people are more hawkish). By the time this is all over, fingers will be pointed, leaders will lose their positions, hearts will be hardened and societies scarred. So many more on both sides will be dead and the dream of a two-state solution buried for another generation.
While Israel's harshest critics claim this is a tragedy for the Palestinian people, perhaps even the beginning of a second Nakba, it is no less a calamity for Israelis, who have not only seen their national security threatened, but the promise of a peace for both sides living side-by-side once again put on hold.
Alas, there is likely worse to come for Israelis and Palestinians in the next days and weeks. It seems almost inevitable that if the Israeli civilian captives are to be freed and Hamas leadership decapitated once and for all, an IDF ground invasion will be necessary to secure the Strip, even without the alarming calls by ultranationalist, rabble-rousing coalition partners to reduce Gaza to rubble. As Prime Minister Benjamin Netanyahu (who one hopes will only be forced to account for this failure on his watch) vowed no shelter for terrorists and called upon Gazans to leave — to where? Will a humanitarian corridor be opened to Egypt? — aerial bombing of Gaza's densely populated neighborhoods commenced and Palestinian civilian casualties will surely mount.
Should IDF troops follow, I fear the images of flag-draped coffins coming home. Meanwhile, the IDF responded to rockets from Hezbollah territory into Sheba Farms on the Israel-Lebanon border, raising the specter of the worst-case scenario: a two-front war, or even regional conflict, with Iran's proxies.
Liberal Zionists at war will have anguished debates about the future — especially one that may well include the reoccupation of Gaza. Yet, these must be seen as arguments for the sake of heaven at this historical moment, born out of love, rather than hatred, of the people, land and state of Israel.
For the past month, Jews have gathered in synagogues to pray for life and peace — we can only hope now for the alleviation of the harshest decree in this holy and heartless land.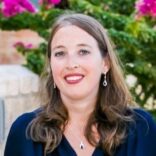 is a historian of modern Israel and the Jews, currently a fellow at the Center for Antisemitism Research at the Anti-Defamation League and a visiting lecturer at the University of Haifa. She is the award-winning author of "City on a Hilltop: American Jews and the Israeli Settler Movement" (Harvard, 2017) and is working on a new book on Zionism, Jewish power and identity politics.
The views and opinions expressed in this article are those of the author and do not necessarily reflect the views of JTA or its parent company, 70 Faces Media.