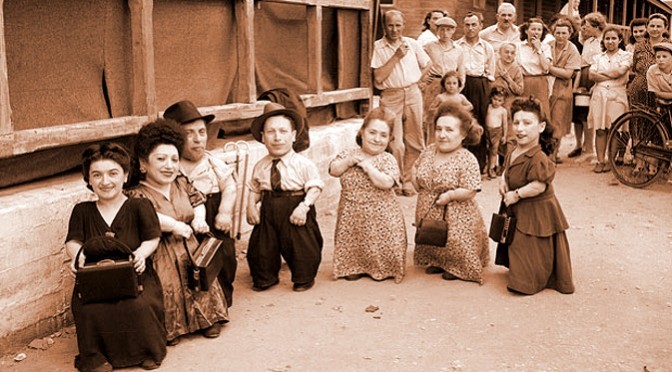 You probably know that very few families survived Auschwitz intact. But did you know that among them was a family with dwarfism?
Born in Transylvania, 7 of the 10 Ovitz children inherited their father's short stature. After his death in 1923, they hid their Jewishness and toured Europe as the "Lilliput Troupe," selling out large concert halls across the continent.
They were deported to Auschwitz in 1944, where Dr. Josef Mengele's sadistic, ongoing fascination with the family might, ironically, be what saved their lives. Before her death in 2001, Perla, the last surviving sibling, surmised: "If we had been normal size, the whole family would have been burned [the] night [we arrived at Auschwitz]."
After the war, the siblings continued to tour, regularly performing a piece called the "Dance of Death," which commemorated their experiences in Auschwitz.
Warwick Davies, the host of a recent episode of a British television series devoted to the family, is also of short stature, and identified with their story: "The spirit of a dwarf," he said "is to use all your skills to survive."
http://www.youtube.com/watch?v=79rHJCX9D3o