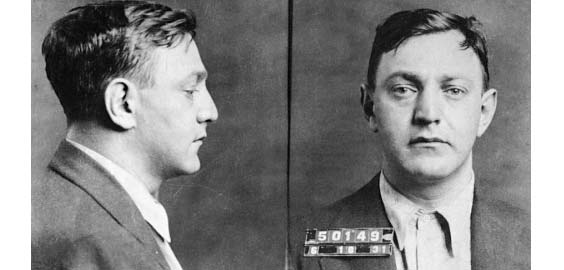 The nostalgia machine known as contemporary American Jewish identity has done something curious to the Jewish thugs, loan sharks, and all-around bad guys of the past: we've bestowed upon them, for some reason we would like to understand, an aura of cute.
But there was nothing cute about them. And certainly not about Dutch Schultz.
Born Arthur Flegenheimer to German Jewish immigrants in 1901, Schultz took to crime like a rat to pizza. His initiation came in the form of a gig bouncing for a speakeasy in the Bronx during Prohibition. Schultz was so brutal, so murderous, that he made partner, bootlegging for the borough and frightening off competition with acts of unspeakable violence.
After Prohibition, Schultz turned to the various rackets for dough: numbers and restaurants, extorting owners and workers alike.
But there were no bona fide allegiances in this world of violence. In the 1930s, a special prosecutor tried to nail Schultz for tax evasion and racketeering. Schultz was public with his desire to see the prosecutor dead, a reckless bravado that disquieted his fellow gangsters.
On October 23, 1935, Schultz was gunned down at a restaurant in Newark. Colleagues had hired Murder, Inc., the largely Jewish and Italian enforcement arm of the Mafia to take him out.
But the search for his lost treasure—estimated to be worth 50 million dollars, buried somewhere in the Catskills—persists. Hanukkah gelt hunt, anyone?