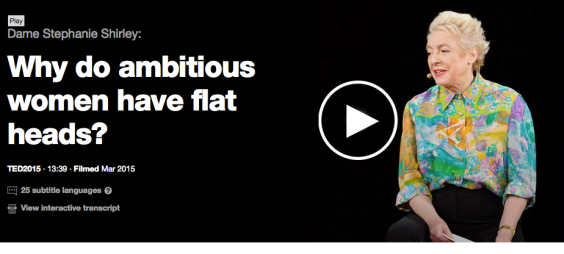 In 1939, a little girl named Vera Buchthal said goodbye to her parents as they got her on the kindertransport to England.
In 2000, she was named Dame Stephanie Shirley – aka "Steve."
"The fact that I nearly died in the Holocaust means that I'm very motivated to make sure … that my life was worth saving," Dame Shirley said. "I had built a determination that I was not going to let other people define me."
Instead, Shirley has redefined the role of women entrepreneurs. In 1962, she founded freelance programmers, one of the U.K.'s first software startups. Yes, the company name is all-lowercase, because Shirley wanted to emphasize the fact that she had "no capital" when she started.
She also wanted to be taken seriously in a male-dominated industry, so when she wrote to possible clients, she called herself "Steve." During business calls, she played a recording of typewriter keys to mask her baby in the background.
In 1975, the Sex Discrimination Act put a stop to Shirley's all-female hiring policy, but not to her vision, which she describes in her amazing TED talk. Her company flourished to be worth $3 billion. More importantly, it challenged the norm and paved the way for the Marissa Mayers of today.
Bravo, Dame.