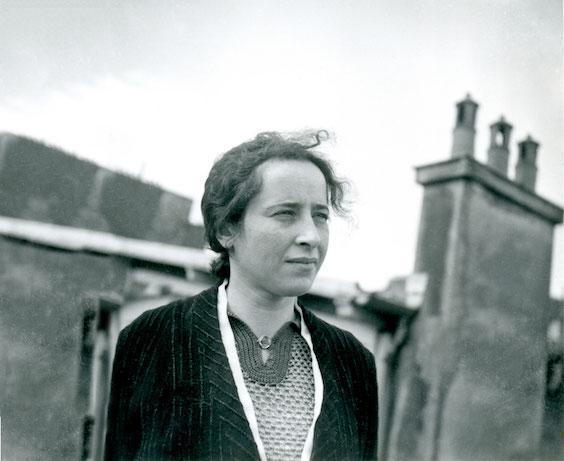 Like most important thinkers, Hannah Arendt was many things: anti-nationalist but briefly Zionist, essentially German but defiantly Jewish, intellectually rigorous and romantically passionate. Vita Activa – the Spirit of Hannah Arendt, a finely wrought new documentary by Ada Ushpiz, tries to capture the many contradictions of one of the 20th century's great minds.
The film opens with a reading of correspondence between Arendt and her "dear teacher" Karl Jaspers narrated over footage of German captives after World War II. These are only a few of the letters that allow us into Arendt's complexities and idiosyncrasies: the ones with her unlikely paramour, the notoriously anti-Semitic philosopher Martin Heidegger, may frustrate contemporary viewers because of the way they can make the fierce Arendt seem like a hausfrau, but they're certainly juicy.
Ushpiz maintains a sympathetic but careful eye even when covering the work that made Arendt a topic of angry debate in the American Jewish community, Eichmann in Jerusalem, a series of articles published in The New Yorker in which she coined the phrase "the banality of evil," to refer to one unremarkable man behind the efficient slaughter of thousands of Jews. Meanwhile, the film's rich trove of pre- and post-war German archival footage – including such chilling images as a smiling family raising a giant Nazi flag in their garden – is enough to hook both Arendt groupies and newcomers alike.
Vita Activa is playing in selected theaters around the country. Find showtimes here.