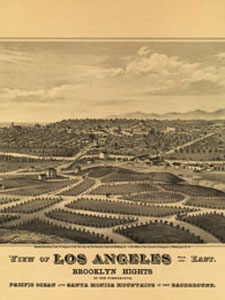 There are more than half a million Jews in Los Angeles, making up roughly six percent of the metro area's population. When did it all begin? Who was the first Angeleno Jew? Enter tailor Jacob Frankfort.
Born in Germany in 1801, Frankfort arrived in LA in December 1841 from Sante Fe, New Mexico, as a member of the Rowland-Workman exploratory party. Frankfort was reputedly a wealthy rifle owner, making him a useful member of the group. He opened a tailoring and men's apparel store at the end of Bell's Row, a two-story adobe building at the corner of Aliso and Los Angeles Streets. It was a prime business location: all traffic crossing the L.A. River from the east passed that corner.
By the beginning of the 1850s, seven other pioneer Jews had opened various shops in the same building. Some of the dry goods merchants at Bell's Row included Jewish civic and cultural leaders of the city: Solomon Lazard, Maurice Kremer, Eugene Meyer and Isaias M. Hellman. By 1855, there were 60 Jews living in Los Angeles, and by 1870 the number grew to 330. But Jacob Frankfort was the first.
____
» Strike it rich with these Gold Rush Jews
» Eat your way through LA grocery history
» Find downtown L.A.'s Jewish landmarks
» Discover a great L.A. Jewish muralist