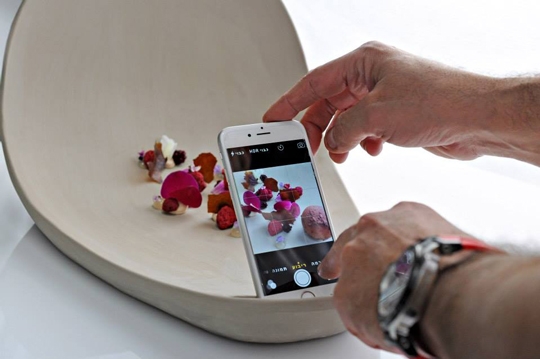 You know how simultaneously tantalizing and mind-numbing it gets to scroll through Facebook and Instagram photos of all your friends' delicious meals? A Tel Aviv restaurant is embracing the trend—by embracing your smartphone.
Through their new project Foodography, a celebrity chef, a food photographer, and a ceramics artist have teamed up to offer Catit patrons not just specially designed plates that holds your cell phone (meet The Limbo), but also a whole new kind of pairing: a gourmet meal served up with a lesson in cell phone food photography.
Israelis, inventors of the first cellular phone technology, the Viber internet phone/texting app, and the GPS app Waze, are a hard lot to impress with cell-phone related innovations, and the Israeli press coverage seems more interested in the international attention than in the invention itself. But here at Jewniverse, we love the wacky, weird, and future-embracing…even if the future is looking more and more like sci-fi every day.
(Photo courtesy Carmel Winery Facebook)