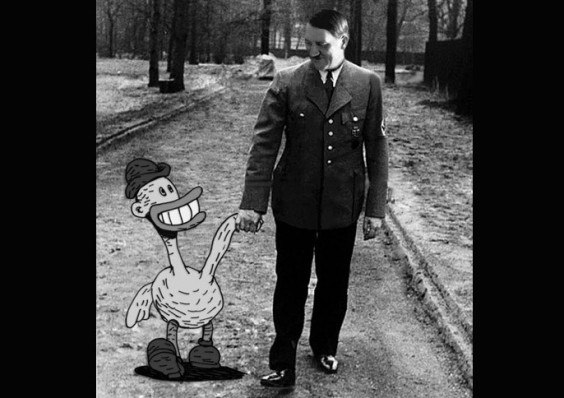 Cult animator Bill Plympton's new film, the mockumentary Hitler's Folly, was recently released on his website for free. But when you consider that time is money, well…this film is expensive.
Plympton, beloved for over 40 animated shorts, six features, a comic book, and even a Simpsons couch cag, has made enough brilliantly weird and weirdly brilliant art in his life to earn the benefit of the doubt. His 1987, Oscar-nominated short Your Face still charms:
https://vimeo.com/122669829
But the crude idiocy of Hitler's Folly comes out of left field. The film is about Hitler's secret love—cartooning—a play on his early failure as a painter. Most of the film consists of a voiceover explaining how all Hitler really wanted to do was draw, as footage of Nazi Europe plays. Oddly, other than a few clips of Hitler's cartoonist efforts, there is little animation.
The film is unconscionably boring, which is actually quite a feat given how offensive it can be. At its worst, an actor plays a concentration camp survivor who talks about the "big misunderstanding about the so-called concentration camps," where inmates simply helped Hitler with his animation. "You see," he tells the camera, "we were all very happy working there."
Unintended moral of the film: Not everything free is worth taking.