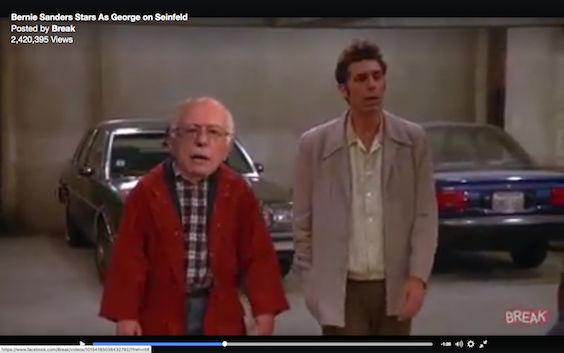 Bernie Sanders may not be leading in the polls, but he's become an Internet phenomenon no other candidate can match. The 74-year-old Jew from Brooklyn has inspired tens of thousands of so-called "dank memes," the latest of which has him hanging around with the Seinfeld crew way uptown from his childhood home.
The meme features Sanders' head superimposed on Seinfeld character George Costanza's body. The populist candidate delivers stump speech lines on income inequality, racism, jobs and education, while Elaine, Jerry and Kramer respond with "I love a good caper!" and other non-sequiturs.
Comedy writer Todd Spence created the video with music producer David Unger. The last bit is particularly wonderful – Costanza's famous "believe it or not" voicemail message is replaced with Sanders' cover of Woody Guthrie's "This Land Is Your Land."
Fans of Seinfeld know that Costanza, played by Jason Alexander and self-described as a "short, stocky, slow-witted, bald man," is based on the show's co-creator Larry David. When David first took the stage as a Sanders stand-in on Saturday Night Live last year, the Internet freaked out. His spot-on impersonation was pretty, pretty, pretty good. As is this meme.