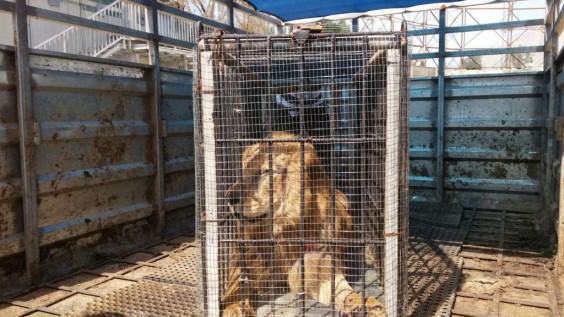 As a very famous one once sang, all a lion really needs is courage. But these days, the help of Coordinator of Government Activities in the [Palestinian] Territories, the Palestinian Agriculture Ministry, Israel's Defense Ministry and the Israel Nature and Parks Authority can't hurt.
Yes, that is a rare group to collaborate fruitfully, but when it came to saving this ailing cat last week, the Israeli and Palestinian officials put aside their political and philosophical differences, and banded together willingly.
The lion was very sick while living in a zoo in the Gaza Strip. The first leg of its trip involved Palestinian officials bringing it to the Erez border crossing into Israel. The Crossings Authority of the Defense Ministry was in charge of admitting the lion onto Israeli territory. Then a veterinarian from the INPA accompanied the lion on a road trip across Israel to a zoo in the West Bank town of Tulkarem. The veterinary care in Tulkarem is known to be better and will hopefully help this beloved cat.
It's still not clear if there were any sing-alongs or happy meal stops along the way.
Photo: Israel Defense Ministry