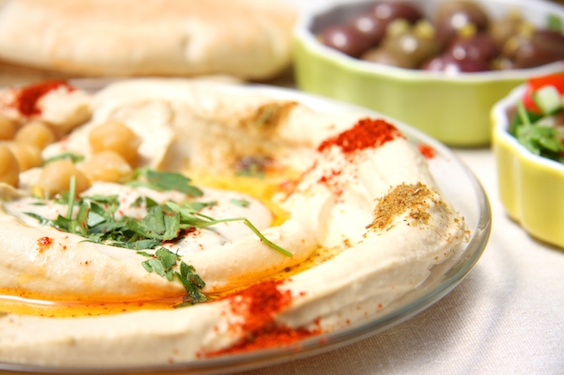 Forget religion: The biggest point of contention among Israelis is where to get the best hummus. Everyone seems to have an opinion on the primo hummus spot. Starting at breakfast, lines form down the block at Abu Hasan in Jaffa. Visitors to Jerusalem are obligated to patronize Abu Shukri or Lina. And Israelis flock to Acre to chow down at Hummus Said.
According to a new survey about Israelis' hummus eating habits, 93% of Israelis eat it more than once a week. Nearly 70% of Israelis have hummus in their refrigerator. Some 60% of respondents get their hummus fix at a grocery store, 15% shop at hummus restaurants and 13% make it themselves. More than half of them like scooping it from the bowl in a circular motion.
Can hummus bring peace between Israelis and Palestinians, as Brüno once asked? Unlikely: Only 9% of the poll's respondents think hummus is a symbol of Arab-Jewish coexistence. But perhaps this Friday, May 13 — International Hummus Day — is the perfect opportunity to break pita over some bowls of chickpea purée and settle this thing once and for all?