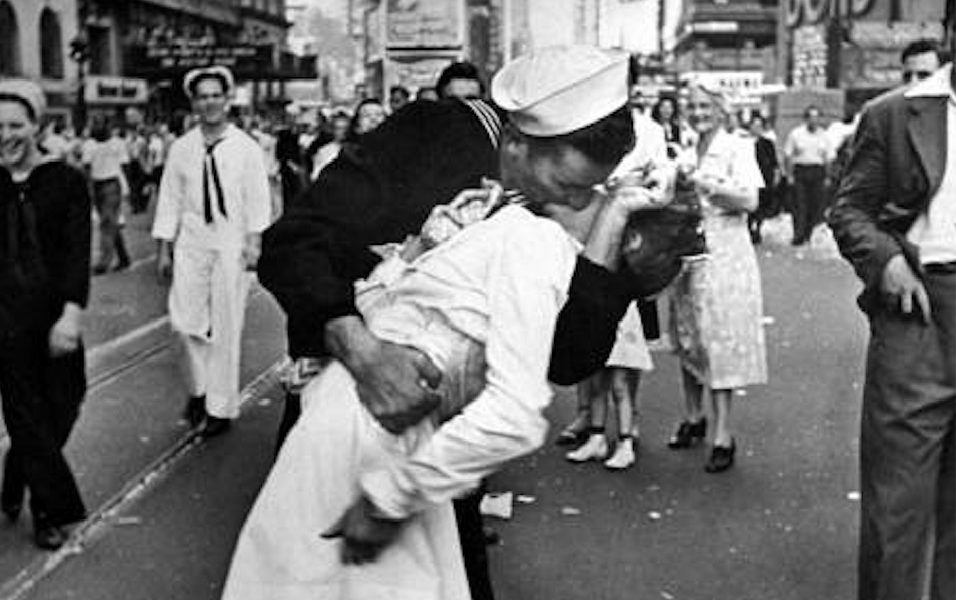 In the catalogue of iconic American photos, we might know this one best: The sailor dipping a woman in a white nurse's uniform to kiss her, her left arm betraying her reticence. Times Square provides the backdrop, it's festooned with the celebration of the end of World War II upon Japan's surrender. But the real story of the woman in the photo, Greta Friedman, who died on Thursday, is more complex than a kiss stolen at a parade.
Born Greta Zimmer in Wiener Neustadt, Austria, she and her sisters were sent abroad by her parents in 1939, after the Nazi takeover of Austria. Greta was fifteen years old. Six years later, she was wearing her dental assistant uniform in Times Square when a drunken sailor grabbed her to celebrate the end of the war. At that point, she had no idea where her parents were, or whether they were alive. She learned later that they had both died in the camps.
After she married scientist Mischa Friedman in 1956, Greta went on to get a degree in fine arts and raise two children. When she came forward as the photo's subject, countless journalists interviewed her about "the kiss," but never, it seems, about how it felt to be a visual symbol of victory in a war that destroyed her family. We can only imagine.
Image: Screenshot from JTA News video.