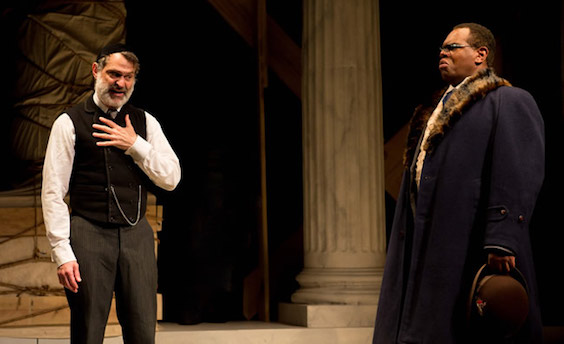 Thought you knew The Merchant of Venice? Veteran playwright/director Aaron Posner's reconstruction (lolz) of Shakespeare's notorious Jewish play might make you reconsider. District Merchants, Posner's uneasy comedy, fast-forwards to Reconstruction-era D.C., exploring religious, racial, and gender conflicts still relevant to America today.
The play unpacks the religious, racial, and gender conflicts of Shakespeare's original. Shylock, here a Jewish moneylender who fled pogroms in the Ukraine, confronts Antoine (nee Antonio), a rich businessman born to a slave, when Antoine defaults on his loan following the 1873 Panic. Portia, a gender-bending aspiring professional, is Antoine's lawyer at his trial against Shylock. Meanwhile, she's courted by Bassanio, her mixed-race love-interest attempting to pass as white.
In a mashup of Shakespeare's world and 1870s Washington D.C., District Merchants juxtaposes the bigotry that Jews, blacks, and women face(d). Its script and music are a cultural smorgasbord, ranging from Shakespearean prose to current vernacular against a klezmer/hip-hop/go-go-inflected score. The lines of privilege and acceptance are often messy, a fact that District Merchants drives home.
Its West Coast premiere is this October at South Coast Repertory, just south of L.A. Tickets are already on sale.
Photos: Teresa Wood