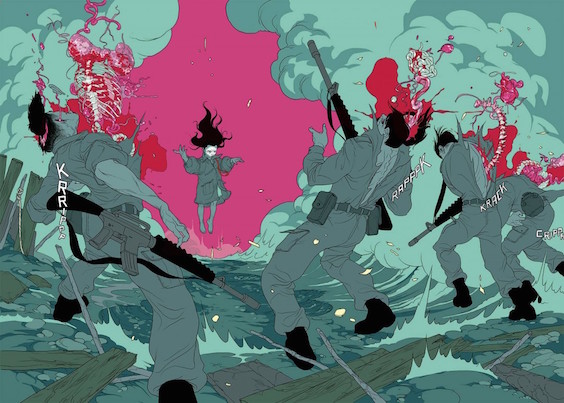 The plot of The Divine—a new graphic novel from the comic virtuosos behind Waltz with Bashir—goes something like this:
Mark, a war veteran, accepts a promising yet sketchy military contract for mining operations in a South-East Asian country called Quanlom. But what he finds there is a bit strange: a civil war has broken out and it's being led by twins. Ten-year-old twins. Who use magic. And command an army of Godlike warriors. Also, there's a dragon. But Mark, with a baby on the way, and an aimless, unfulfilling life, has no choice but to see the job through.
These twins, it's written in the graphic novel's afterword, were inspired by the real life Htoo twins—boys from Myanmar who led, and were worshipped by, guerrilla fighters. These boys were rumored to have had magical powers—unlike the twins in The Divine, who actually do.
Asaf and Tomer Hanuka, twins themselves, and the creators of Waltz with Bashir—along with Boaz Lavie—are the talented inkers and writers behind The Divine. According to their publisher, the graphic novel is "fast-paced, brutal, and breathlessly beautiful." Just a glimpse at these preview pages proves this to be true indeed. The pages glow mutely with dark, earthy palettes, sharp, expressive characters, and haunting scenery.