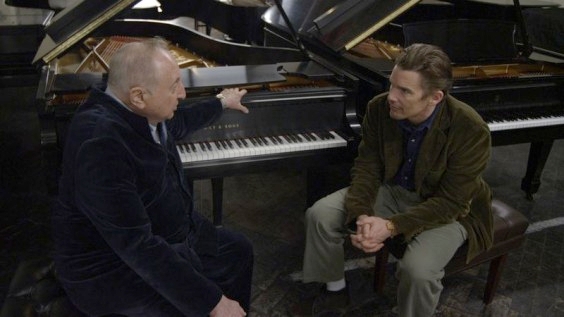 Seymour Bernstein is a musical genius. He is 88 years old and lives in a charmingly cluttered studio apartment in Manhattan, where he teaches piano and sleeps on a pullout couch. This is where he sat down to film this thoughtful documentary directed by Ethan Hawke, Seymour: An Introduction.
Hawke met Seymour at a dinner party a few years ago and they hit it off, talking about the purpose of art and the burden of stage fright. Seymour is spunky and honest, captivating even as he trots down the street in a thick overcoat. He was an award-winning pianist by the age of 17. He toured all over the globe performing, from grand concert halls to the army tents of the Korean War. Then, at the age of 50, he decided to stop performing and devote himself wholly to teaching, composing, and writing about the human connection to sound.
Now you can feel his magnetism on screen. Or close your eyes and let his notes and words flow together. As he says in the film, "Allow the music to reveal its own beauty. A beauty that is answered by something deep within you."
Seymour: An Introduction is now out in theaters. You can find show times here.
___
» Tune in to this candid conversation with Bernstein and Ethan
» Watch the trailer of the film
» Listen to recordings of Bernstein
» Audition for Bernstein's master class at NYU
___

Watch the trailer of Seymour: An Introduction

Enjoy this candid conversation between Hawke and Bernstein: