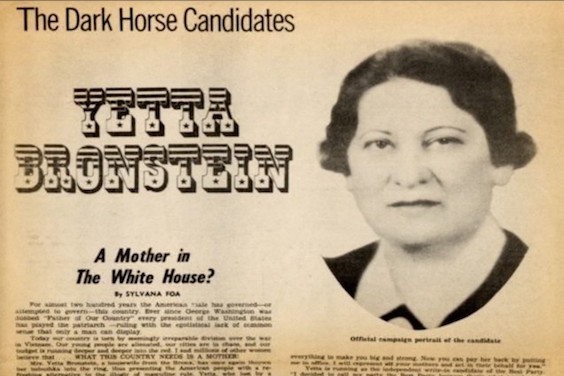 When she ran for president, Hillary Clinton did her fair share of acknowledging the 200+ women who've run for president before her. But why didn't she mention Yetta?
Yetta Bronstein ran for office in both 1964 and 1968 on the Best Party ticket. She was an outspoken Jewish housewife from the Bronx, and ran independently (with an amazing campaign poster). She advocated for important issues like national bingo, self-fluoridation, mink coats, sex education, and stamps with naked pictures of Jane Fonda to help out the struggling U.S. Postal Service.
Yes, Bronstein was part of a brilliant hoax, created by this ingenious prankster team, Jeanne and Alan Abel. The campaign was well-engineered and believable enough to fool The New York Times. Alan found a storage locker to post as their campaign headquarters and whenever reporters called to speak with Yetta or her manager (Alan), they called back in character. Jeanne went on to run for mayor of New York City and the U.K.'s Parliament. She didn't win, but she did get a great book out of the deal – writing as Yetta, it was called, The President I Almost Was.
Alan finally spilled the beans in his 1970 memoir, The Confessions of a Hoaxer, though that was hardly the end of the Abels' hoaxing careers.
So, who's feeling the Bron?