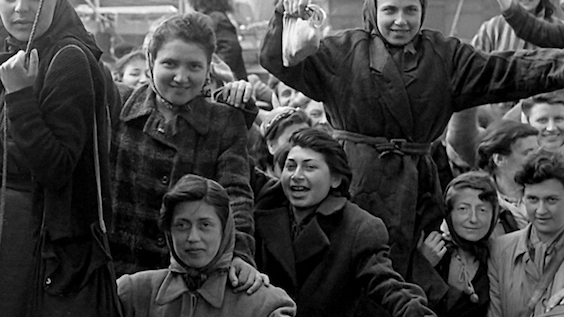 The faces are emaciated, desperate, joyful, confused.
But who are they?
There are close to 2,000 faces filing by on grainy film as they disembark from a boat in Sweden in April, 1945. They have just been released from concentration camps and do not know what will come next.
Director Magnus Gertten has done an incredible thing. He has studied the passenger lists from this day and tracked down some of the survivors. Then he brings them the archived footage so they can find their faces on that fateful day.
"Oh that was me!" cries Fredzia Marmur, of Lodz, Poland. "That's me!" she repeats – as if to convince herself.
"Oh my goodness. That's me over there," says Elsie Ragusin of Orlando, Florida. "There I'm thinking: Can this be true?'"
"I remember this moment very well. I do…" says Svenn Martinsen solemnly. He recognizes himself by his haircut and tipped cap. He also remembers the children he was trying to smuggle to freedom on that ship, and how he couldn't get to them before the SS.
Every Face Has a Name is heartbreaking and spine-tingling. The moments of recognition are phenomenal. There is such joy and grief in these older faces watching their younger selves. In a time where refugee ships are all too common again, this film feels even more important. Prescient and commemorative at the same time.