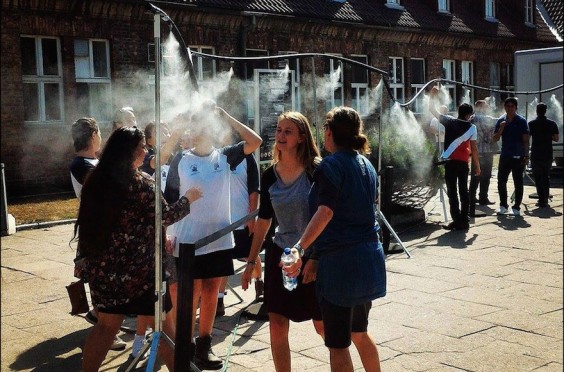 This is the kind of story that fully embodies the adage "truth is stranger than fiction."
This past weekend, temperatures in Poland leapt into the 100s. It was hot. So hot, in fact, that management at the Auschwitz Memorial museum—located inside the former concentration camp—thought they would be doing visitors a solid by installing misting stations at the museum entrance.
That these misting stations were more than a little reminiscent of the "showers" used not too far from that location to murder hundreds of thousands of Jews seventy years ago seemed to never cross their minds.
"It is really hard for us to comment on some suggested historical references since the mist sprinkles do not look like showers and the fake showers and the fake showers installed by Germans inside some of the gas chambers were not used to deliver gas into them," the museum's Facebook page wrote indecipherably.
Whether there is a physical resemblance is beside the point; the symbolism alone is enough to ruffle feathers. A group of Israelis visiting over the weekend expressed offense. One referred to it as a "Holocaust gimmick."
For those who are thinking, sheesh, Auschwitz just can't stop getting a bad rap, perhaps some new guidelines would be useful: In the future, Auschwitz, play it safe: "Showers" and "death-camp tourist attractions" just don't mix.
(Photo from Facebook)