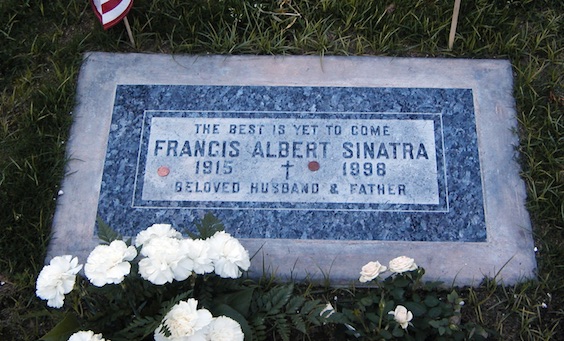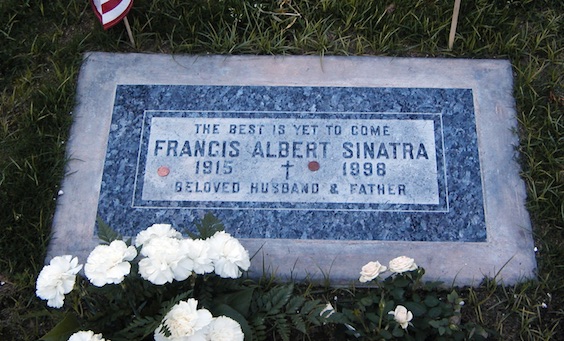 Frank Sinatra's 100th birthday (on December 12, 2015) has brought on a flurry of centennial celebrations, books, exhibits and The Sultan of Swoon-inspired concerts. Jack Daniel's even issued a Sinatra Century blend and Uber offered a fleet of vintage cars so people in New York City could ride in Sinatra style.
One detail that maybe wasn't exactly planned for the festivities was the reveal last week that Sinatra's body was hidden after his death – in a Jewish funeral home.
Sinatra died on May 14, 1998 of a heart attack in Los Angeles. He was buried six days later at Desert Memorial Park in Cathedral City, reportedly with a pack of Camel cigarettes, a bottle of Jack Daniel's, a zippo lighter and 10 dimes. His daughter Tina once said it was so he could call from wherever he was going.
According to Barry Wien, a funeral director in Fort Lee, New Jersey, "The L.A. funeral homes were besieged by paparazzi after Sinatra's death, trying to get a shot of the body. The family wisely hid the remains at a Jewish funeral home to great effect."
Though Sinatra wasn't Jewish, he was a big activist for Jewish and Israeli causes, including a youth center in the Arab town of Nazareth. It seems fitting then that when he faced "the final curtain," he was given the solemnity he deserved.