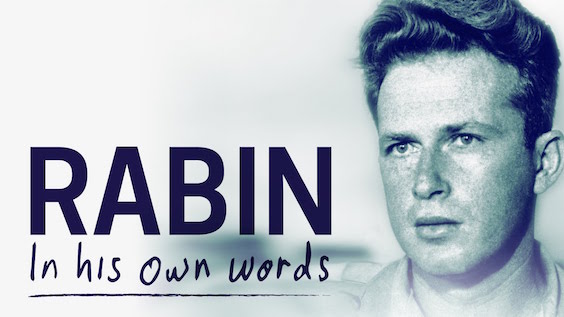 "I think you could say I'm an introverted person. I don't know if I'm friendly or unfriendly."
These words, spoken by an uncharacteristically confessional Yitzhak Rabin, mark the start of Israeli Director Erez Laufer's 2015 documentary Rabin in His Own Words, released on the 20th anniversary of the prime minister's murder.
The film is a stark and moving look at Israel's beloved and complex statesman, told, as the title would have it, entirely in his own words—an "autoportrait," according to Laufer. Through archival footage, 8mm home videos, letters, and interviews, Rabin reveals himself in what turns out to be a long and thoughtful autobiographical sketch, ranging from childhood through to the year of his assassination.
Rabin's assessments of his decisions, his strategies, and his politics fascinate, as do the more timorous parts of his personality brought to light.
But perhaps most enlightening and contentious is the previously unreleased recording of an interview he gave in 1976, in which Rabin calls the settler movement "comparable to cancer," saying, "I don't think it will be possible to [settle] over time, unless we want to get to apartheid." He decries the movement as "one of the most acute dangers in the whole phenomenon on the State of Israel." He was assassinated 19 years later, and Israeli politics have shifted to the right ever since.
Rabin in His Own Words is now playing in New York, Los Angeles, and South Florida.