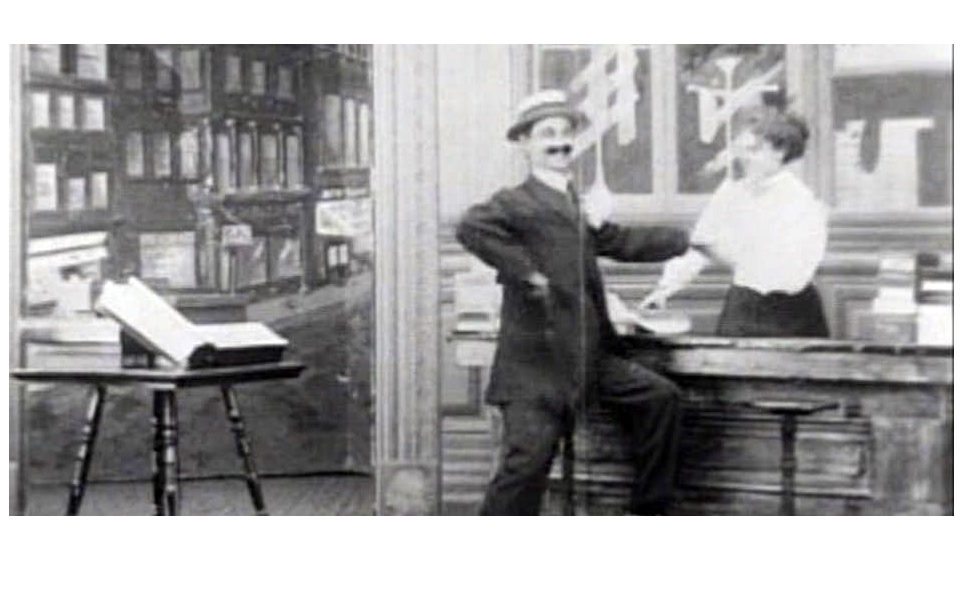 A Jewish kid from Arkansas pulls off the ultimate reinvention and makes himself a cowboy. In the process, he becomes a motion-picture pioneer — not least by filming the first on-screen pie-in-the face, and pretty much inventing the genre. This is the story of Maxwell Aronson, who was better known to American moviegoers as "Bronco Billy."
As a teenager, Aronson followed his nose to New York and vaudeville. Soon, he met Edwin S. Porter, who cast him in The Great Train Robbery, the film advertised as "the first feature picture with a plot!" The young actor, who would officially go by Gilbert M. Anderson, soon became the first cowboy film celebrity, starring in 148 short westerns.
But Anderson really broke new ground when he co-founded Essanay Studios. In 1909, America's cowboy directed Mr. Flip, (above) a preternaturally progressive silent comedy about a man who goes around town giving women unwanted attention. They get back at him by electrocuting him, putting scissors on his chair, spraying him with seltzer, and, you guessed it – pieing him in the face.  
By 1920, Anderson had departed Hollywood — but as his obituary noted, he continued to respect the movies, which he saw as "the maximum amount of entertainment for the minimum amount of price." Or, as history would have it, "the maximum amount of entertainment for the minimum amount of pies."