The aging World War II veteran paused at the end of an hour-long interview and addressed the two teenage girls across the table who had been asking him questions.
"You have to promise me something," Sander Dulitz said to them, after describing his three years of combat in the European theater, including landing at Normandy and visiting the Buchenwald concentration camp shortly after it was liberated in the spring of 1945.
"Promise me you won't forget this," he said, "that you'll pass it on."
Devorah Weinstock and Sarah Schildkraut, both seniors at the Yeshiva University High School for Girls in Queens, nodded soberly.
That moment of connection between the generations is the key to the success of an innovative project that Devorah, Sarah and 16 of their classmates participated in this spring.
Known as "Names, Not Numbers," it allows students to better understand the Holocaust by conducting oral histories with survivors and others involved in World War II.
The students, working in pairs, research their subject, prepare for and video the interview, and then edit it for inclusion in a film that incorporates their work and that of their classmates. It is then shown at their school for students, teachers, parents and the survivors who participated, along with their families.
The Holocaust Memorial Film Project by the members of the Class of '08 of the YU High School for Girls will be presented on Monday night at the school.
"You can see how the students mature over the course of the project," noted Tova Fish-Rosenberg, an educator in Harrisburg, Pa., who developed the program, as well as a curriculum for it, and has brought it to nine schools around the country over the last four years.  (That includes MTA, the YU high school for boys, as well as day schools in Baltimore, Houston, and Allentown, Pa.)
"These are experiences and messages they will take with them for life," she said.
Devorah and Sarah said they were moved by their meeting with Dulitz, who in turn thanked them for "the opportunity to tell my story so future generations will know what happened."
The girls had done research on a Holocaust survivor they had been set to interview, and they had prepared a list of questions to ask. (I was asked to give the project participants some tips on conducting interviews, and was honored to be involved.)
Support the New York Jewish Week
Our nonprofit newsroom depends on readers like you. Make a donation now to support independent Jewish journalism in New York.
But on the morning of Devorah and Sarah's assignment, "their" survivor had to cancel due to illness, and Dulitz, who lives in Washington Heights and was a security guard at Yeshiva University for 18 years, agreed to participate on short notice. He arrived wearing a World War II veterans' baseball hat decorated with a number of small medals awarded to his Army unit.
He spoke of his relatively carefree life in New York before Pearl Harbor, hanging out with his older friends "on the corner." But when the U.S. suddenly entered the war at the end of 1941, his buddies enlisted and soon Dulitz did, too, though he was only 18 (draft age was 21) and he needed his parents' permission.
In the Army, he encountered anti-Semitic remarks for the first time in his life, from fellow soldiers. "I hadn't realized it was hard to be a Jew," he said.
Dulitz fought in France, Belgium, Luxemburg, Holland and Germany, and it was near the town of Weimar in April 1945 that he learned of a concentration camp in the area. He commandeered a vehicle and went on his own to Buchenwald, which had been liberated only a few days before.
There he met survivors — "they were human skeletons, just skin and bones" — and was shown the six ovens of the crematoria "with ashes still in all of them." He described in gruesome detail how bodies were prepared to be burned.
Dulitz said he was also shown the abandoned home of the commandant of the camp, Karl Koch, whose wife, Ilse, known as The Beast of Buchenwald, was infamous for her acts of sadism, including preserving the skin of inmates with tattoos. Dulitz said he was shown lamp shades said to be made from tattoos.
"I was too young to get the full impact" of all that he saw that day, he told the student interviewers, but it was clear from the details he provided of the sights and smells he encountered that the memory is still vivid.
"I'm not here to be a hero," he said toward the end of the hour, "just to spread the message." He added that he wished more young people over the years had asked him about his wartime experiences.
Rochelle Brand, the principal of the YU High School for Girls, said the project not only gave the 18 seniors who volunteered for it (out of a class of 62) a deeper and more personal connection to history, but "the chance for them to be a link in the chain."
Observing the girls' interview, one sensed the almost palpable feeling of catharsis for Sander Dulitz, able to open up and share his memories with an attentive audience, and a parallel feeling for Sarah and Devorah, allowing them to absorb his words and internalize them, making long-ago encounters live again.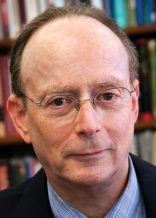 was editor and publisher of The Jewish Week from 1993 to 2019. Follow him at garyrosenblatt.substack.com.
The views and opinions expressed in this article are those of the author and do not necessarily reflect the views of NYJW or its parent company, 70 Faces Media.