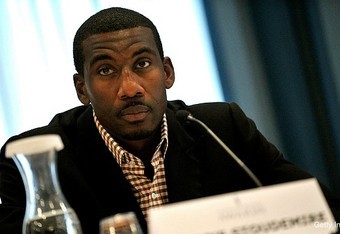 New York Knicks forward and one of the blog's favorite personalities, Amar'e Stoudemire, lost his older brother Hazell earlier this morning.
According to TMZ, Hazell, 35, died in a car crash in Florida, after crashing his car on Route 27 in Lake Wales. According to Florida Highway Patrol, he was not wearing a seat belt and was killed almost immediately after colliding with a trailer.
New York Post reporter Marc Berman tweeted that Amar'e won't be playing at tonight's Knicks game against the Utah Jazz and he is on his way to Florida.
Amar'e Stoudemire has commented in the past about his strong connection to the Jewish people and Israel. He also taught Hebrew on "Sesame Street" and even dressed up as King Solomon for Halloween.
So far no official word from Amar'e or his family.