Three years ago today the King of Pop, Michael Jackson, passed away.
Jackson's connection to the Jewish community and Israel was strong but also controversial at times. Here are some facts you may not have known about MJ, the Jews and Israel.
1. Jackson was good friends with Rabbi Shmuley Boteach

The outspoken New Jersey rabbi (and congressman wannabe) met Michael Jackson in 1999 with the help of Jackson's friend, Israeli illusionist Uri Geller, and the two became buddies. Jackson even came over to Boteach's house for Shabbat dinners. The rabbi has publicly stood by Jackson — defending him against allegations of  being a Nazi sympathizer or continuing to work with him on children's issues despite the accusations of sex abuser. And then there was the post-death book of interviews. 

2. When Israeli illusionist Uri Geller renewed his vows, Jackson was his best man
In 2001, Israeli illusionist Uri Geller, known for his claims of spoon-bending abilities and other psychokinesis talents, used the services of his friend Michael Jackson, when he renewed his wedding vows with his wife Hannah in Berkshire, England. During the ceremony, which was officiated by Boteach, Jackson handed Geller a gold ring to put on his wife's finger. Geller later said that he chose Jackson because "he is a good friend and I wanted him to experience a Jewish wedding."
3. Jackson was the first person to visit the Museum of Tolerance in Los Angeles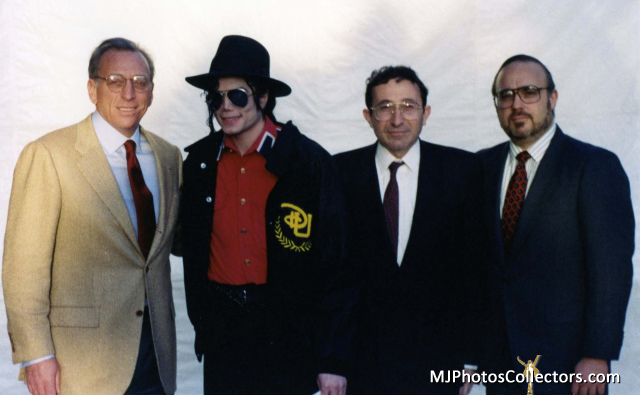 Michael Jackson requested to visit the MOT the Friday before it opened in 1993 — and received a personalized tour from Rabbi Marvin Hier, founder of the Simon Wiesenthal Center and the museum, which ended with a special exhibit dealing with the Final Solution. Hier later told the L.A. Jewish Journal, "When he left the exhibit, Michael was crying, and he wrote me afterwards that he cried for weeks,"
4. Jackson's visit to Israel in 1993 caused absolute chaos
For two nights in September 1993, Jackson packed the Yarkon Park in Tel Aviv, and more than 70,000 fans saw him perform  hits like "Jam," "Smooth Criminal," "Thriller," "Black or White" as part of his "Dangerous World Tour." Jackson also did a lot of sight seeing in Israel, visiting Jerusalem, Beit Lechem, Tel Aviv, Masada and even a children's hospital. Everywhere Jackson went, thousands of fans followed him, in some cases blocking entire streets.
Watch Jackson's performance in Israel, September 21, 1993:
5. Jackson made some unusual requests when he visited Israel
According to Israeli journalist Tal Perry, Jackson forced an entire shopping mall in Tel Aviv to open just for him. Since it was the evening of Rosh Hashana, the "Dizengoff Center" mall in Tel Aviv was closed, but Jackson really wanted to buy records, books and to play video games, so the Israeli producers made some phone calls, and the mall was opened for him. Apparently, Jackson ordered half of the furniture in his presidential suite to be removed in order to make room for all the toys he purchased. He was 34 at the time.
6. He also almost got arrested in Israel
Jackson wanted to visit the "Tzrifin" base in what he probably figured was perfectly appropriate attire — an Israeli Air Force uniform with captain rankings. Oops. IDF officials told Jackson's staff that posing as an Israeli military officer is considered a crime, so Jackson stuck with the red button-up and black hat look.
7. During his trial he wore a red Kabbalah wristband
In 2005, Jackson was accused of child molestation. During his trial in Santa Ana, Calif., fans were surprised to see that he was wearing a Kaballah bendel in a photo with his father. MSNBC reported that it was possibly Elizabeth Taylor who introduced him to the mystical studies of the "Zohar."
8. And that was the same year we found out he thinks Jews are 'like leeches'
In 2005, ABC's "Good Morning America" got its hands on an audio tape of what was supposed to be Jackson telling his former adviser Dieter Wiesner that "they're like leeches…I'm so tired of it…They start out the most popular person in the world, make a lot of money, big house, cars and everything. End up penniless. It is a conspiracy. The Jews do it on purpose." Listen to the recording here:
9. And that's not the only time he got in trouble with the Jews
Jackson came out with the song "They Don't Really Care About Us" in 1995, and the New York Times noted that song included some serious slurs, including the line: "Jew me, sue me, everybody do me/ Kick me, kike me, don't you black or white me."
His response to the outrage: "It's not anti-Semitic because I'm not a racist person … I could never be a racist. I love all races."
Either way, "Jew me" and "kike me" were changed to "do me" and "strike me."
In the music video, both words are censored, starting at 1:06.
10. But despite everything, "Heal the World" should still generate a good amount of goosebumps
Because it's basically a more tear-jerking version of "Tikkun Olam."
What is your favorite Michael Jackson moment