Code Pink, the protest group that has among its sights Israeli policies in the West Bank, is making its presence felt at the Republican Party convention here in Tampa.
Standard fare for political rallies, but the presence of the group has led to a surprisingly heartfelt talk between a leftist activist and a right-wing rabbi — with a sequel in the works for the High Holy Days.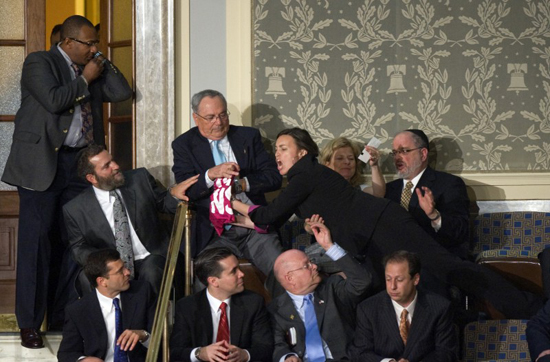 The first time Rae met Shmuley. Will they meet again around a Shabbes table?
[[READMORE]]
I've seen the group disrupt Paul Ryan ("Hands off my vagina!") in the convention hall, Condoleezza Rice ("You cannot be compassionate and kill people!") at an event sponsored in part by One (don't these folks like Bono?), and Wednesday, Rep. Michele Bachmann (R-Minn.) ("No to war with Iran!"), speaking at a Republican Jewish Coalition salute to pro-Israel lawmakers.
Bachmann was not put off her stride and continued her broadside against the Obama administration and what she depicted as its unwitting promotion of the "sharia ascendancy." ("How did she get in?" one RJC member muttered to me — referring to Bachmann — as he bit into the delicious — and kosher! — brisket.)
Another subsequent speaker was effected, however: Rabbi Shmuley Boteach, running as a Republican against Rep. Bill Pascrell (D-N.J.), abandoned his prepared "stand with me" pitch (to the extent that RJC director Matt Brooks had to stick in the standard give-give-give line after Boteach spoke.)
Boteach, one of the most robust speakers I know, was relatively muted — but no less effective. He told the attentive RJC crowd that he knew the woman who had just disrupted the event, and that she was not only a "good person," if misguided, but a "committed Jew."
How did he know this? The day before, he had spent an hour in intense discussion with the young woman, Rae Abileah, at the Huffington Post outpost here in Tampa.
Abileah is best known, perhaps, as the protester who stood up with a banner.at Israeli Prime Minister Benjamin Netanyahu's May 2011 address to both houses of Congress. An AIPAC member in attendance, Stanley Shulster, pulled her down. They settled a lawsuit, which included an apology from Shulster.
So how did this lead to the Abileah-Boteach summit? I spoke to both of them after the RJC ruckus, and got this story.
Boteach was at the Huffington Post tent because he blogs there. Abileah noticed him, and approached him because of a column he had written right after the Netanyahu disruption, in which he recounted his internal debate over whether to join in the subduing of Abileah. You can see how close Boteach is in the above picture, which accompanied his column.
Abileah had, years ago, read the work which propelled Rabbi Shmuley into household name status, "Kosher Sex," and was impressed by its insights on intimacy. She wanted to know how a clergyman whose works she admired could counsel what she saw as violence against her.
"A man of faith who follows our tradition is someone who seeks to do no harm," Abileah told me. "He was having a debate about whether to help someone assault me rather than come to my aid. I was shocked by that."
Boteach told her that he was glad to see that she was OK and then said — both he and Abileah confirmed this — that he admired her courage.
"I appreciate her courage," he told me. "I just wish it was put to better use."
Abileah said she she was "incredibly moved" by Boteach's mention of her courage.
The two agreed to disagree on the "better use." Boteach said her disruptions essentially suppressed the speech of others, including Netanyahu. "You don't believe a prime minister of Israel has a right to speak?" he asked her.
Abileah said her disruptions were justified by the unlikeliness of her cause otherwise getting a fair hearing in the mainstream media, or by Congress members. I could see in our conversation the posture that frustrated Boteach. I asked her for an example of suppression of her views. She said that after Rep. Lynn Woolsey (D-Calif.) introduced her at a rally and praised her Israel-related protests, "the next day there were a stack of letters of protest" from AIPAC backers. Was that an attempt to silent Woolsey, I asked, or simply the expression of democratic protest that Abileah extolled? She didn't answer.
In any case, Boteach wanted to prove her wrong about a lack of access, and said he was willing to debate her whenever she pleased.
He also told me he invited her to Shabbat dinner to continue the civil discussion they had started. "It's kind of sad we have to have this great divide," he said.
Abileah told me the invitation was for Rosh Hashanah — and she was ready to take him up. She's a West Coaster, but happens to have plans to be in New York when the holiday comes — a commutable distance to Rabbi Shmuley's.