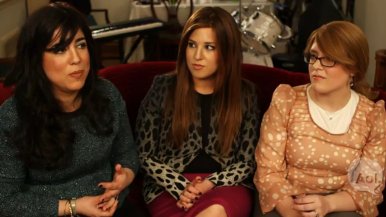 The women's-only Chabad band, Bulletproof Stockings, were featured on AOL's "You've Got" series, where they rocked out and explained why their religious adherence only allows them to perform for women.
The Bulletproof Stockings' story made headlines earlier last year, where they were written up in the Times of Israel, the New York Post, and the New Yorker. The band members explained that religious law forbids men to listen to women singing, but that their band caters to an all-women audience.
"We specifically want to create a space that's just for women," said Perl Wolf, one of the band members, explaining that playing music for all women takes away from tensions and distractions of having men around.
"The general assumption is that we're cutting out half our audience, which I suppose is true. "But there are only what, 3 billion women in the world? I think we're good with that," added Dalia Shusterman.