(JTA) — Another Hanukkah season means another chance to impress with a creative menorah choice. Here are eight of the most inventive menorahs we've spotted this year. Buy one as a gift — or buy each of them for yourself and you'll guarantee your Festival of Lights will consist of eight memorable nights.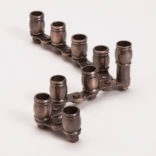 The biker or environmental activist in your life will appreciate this menorah — it's made from actual recycled bike chains in Moradabad, India. So you can turn and rearrange the shape of the hanukkiah however you'd like while feeling good about your environmental impact. Recycled Bicycle Chain Menorah; Ten Thousand Villages; $29
Each side of this elegant, octagonal menorah — it's actually an octahedron — has a different number of slots for candles on each side. This hanukkiah requires "active" participation; each night you'll need to turn it onto a new side to fit an additional candle. Hanuka 21 Menorah by EightDays Design; Jewish Museum; $1,100
Jewish stoners of the world, rejoice! This device might not be great at holding actual candles, but it will definitely inspire its users to consume plenty of latkes. GRAV Menorah; Grav Labs; $699.
READ: The rise of the menorah bong, and how Hanukkah became a 'high' holiday
Menorahs and dreidels are the two most identifiable symbols of the Hanukkah season – why not combine them into one product? This menorah's small separate candleholders click together to form a multi-colored dreidel. Just don't try to make it perform both functions at once. Hanukkah Dreidel Modular Menorah; Agayof Design; $144
If you've ever felt like sticking your Hanukkah candles in wacky sideways arrangements or in random magnetic places, this is the menorah for you. The possibilities are endless for its eight detachable magnetic candle holders — and it's designed for travel, too, for those wishing to hit the road during the Festival of Lights. Thinking Out of the Box Menorah; Laura Cowan Judaica; $85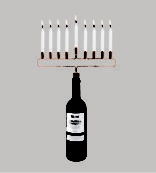 Another clever travel menorah, the Copper Cork menorah transforms any bottle of wine into a menorah. "Great menorah for the college student!" reads a description on the product's retailer web page. We'll vouch for the menorah — but whether or not college students actually drink corked beverages remains subject to debate. Copper Cork Menorah; Decor craft; $18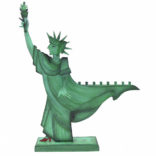 This handpainted piece of folk art practically screams: "Give me your tired, your poor, your huddled masses yearning to celebrate Hanukkah!" Then there's the cheeky ruby high heel peeking out under Lady Liberty's robe, which reminds us that "there's no place like home." Statue of Liberty Menorah by Acme Animal; Jewish Museum Shop; $400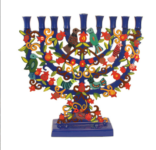 Perhaps it's not a surprise to see a menorah made in Israel depict the pomegranate, one of the most symbolic foods in the Jewish tradition. But this classic, colorful hanukkiah will add sweetness and flavor to any holiday gathering. Blue Hanukkah Menorah with a Pomegranate Tree and Birds Design; Yair Emanuel Judaica; $89