(JTA) — Ted Cruz's presidential campaign defended an endorsement from a controversial pastor who has said Jews will be hunted and put in death camps before Jesus returns.
Kansas evangelical Pastor Mike Bickle, whose endorsement the campaign publicized last month, runs a project called Israel Mandate, one of whose goals is "partnering with Messianic Jews for the salvation of the Jewish people."
In a sermon in 2011, Bickle said God would give Jews a chance to convert to Christianity and "raise up the hunters" against those who refuse. Bickle called Hitler "the most famous hunter in recent history." In 2005, Bickle said in a sermon that before Jesus' coming, "a significant number of Jews will be in work camps, prison camps or death camps."
Nick Muzin, a senior adviser to the Texas senator's campaign, said Bickle was referring to biblical passages.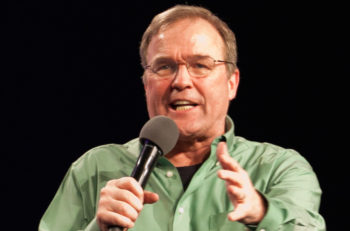 "Our campaign welcomes support from faith leaders across the country," Muzin told Jewish Insider. "Mike Bickle is one of the hundreds who have endorsed us. My understanding is that he was paraphrasing the words of the prophets Jeremiah and Zechariah. I know that he has made support for Israel and the Jewish people a central part of his mission."
READ: When Ted Cruz slams Trump for 'chutzpah,' should Jews be offended?
The Anti-Defamation League and National Jewish Democratic Council both called on Cruz to clarify his opinion on Bickle's views.
"Mike Bickle's views about why God allowed Jews to be killed in the Holocaust, as expressed in a 2011 speech, are abhorrent, intolerant and unacceptable," the ADL said in a statement, according to the Times of Israel. "We assume that Senator Cruz accepted Bickle's endorsement without knowing about these comments. We hope that when these comments are called to the Senator's attention, he will clearly and forcefully reject Bickle's hateful ideas."
Muzin said Cruz has 70 rabbis endorsing him.
"No one has a better record than Senator Cruz when it comes to standing with Israel, fighting against radical Islamic terror, and combating global anti-Semitism," Muzin said in the statement. "We are proud of the support we are building in both communities and see them as complementary, and part of our larger goal of restoring Judeo-Christian leadership values to America and the world."
Cruz has come under fire for comments that appear to indulge Jewish stereotype. In a primary debate, he criticized Republican frontrunner Donald Trump for having "New York values." In February, he called the Yiddish word "chutzpah" a "New York term," leading two columnists to connect the two statements and impugn Cruz for viewing Jews negatively. Cruz has also slammed neoconservatives, many of whose leading thinkers are Jewish. He also has become close to pro-Israel organizations and has been outspoken in condemning anti-Semitic attacks.