(JTA) — Most of my friends in Jewish circles are parents of teens or college students. We are liberal, tolerant, open-hearted folks, who jokingly call ourselves "NPR Jews." We have Israeli friends, and we are watching in horror at a world in which it is once again fashionable, in liberal circles and on college campuses, to justify the murder and kidnapping of Jewish children — this time, because they were born in Israel. This new wave joins the rise of Jew-hate/Israel-hate in MAGA circles and the white supremacist anti-Jewish tropes parroted by celebrities like Robert F. Kennedy Jr. and Elon Musk.
While we lament the bloodshed of all people, we sympathize instinctually with our fellow Jews in Israel. We continue to advocate for a peaceful, long-term solution for both Israelis and Palestinians, but we know that Israel sometimes has to fight for its security. And while we ourselves have been critical of the Israeli government, at times deeply, we see too many others crossing the line from harsh criticism to double standards to outright demonization and antisemitism. 
Our kids, meanwhile, are absorbing other messages. Yes, they see bad actors spreading misinformation and influencers fawning over the words of Osama bin Laden. But they also see images that activate the very values we helped instill in them: tolerance, inclusion and compassion. Daily footage of Palestinians, often children, who are caught in the crossfire of this war, demands their compassion. Clips of Israeli leaders who speak about Palestinians as "animals" or "Amalekites" provoke their outrage. Their parents' laments about Jewish vulnerability are hard to square with hourly evidence of Israeli military power. 
So, these last weeks have brought new questions:
When a teen tells us that we should stop worrying about antisemitism, how should we react? Should we push back and criticize them for not taking this seriously, or let them blissfully pretend that we are not living during a surge of hate?
What if teens are actively promoting, from a place of compassion and solidarity, only arguments that are anti-Israel or pro-Palestinian? How do we make sure that they are hearing Israeli voices on these issues and that they balance their critique with some clarity about the challenge of taking sides with those who wish to destroy us?
And what if our teens are justifying the terror of Hamas as a righteous form of armed resistance, as some Jewish students are doing on college campuses?
Just as the Passover seder calls on us to differentiate how we are to answer four types of children, these questions present us with a multi-layered pedagogic challenge.
I had the opportunity last week to speak with a New York-based therapist and parent coach, Dr. Julie Hirschfeld, about these questions in preparation for a webinar we hosted for parents of teens at Moving Traditions. Here are five of her insights (in bold) and my own reflections on why these insights are important right now for parents of teens.  
1. "Be aware of how the war is putting a strain on your relationships."
This may seem obvious, but as a parent, I know that it is easy to overlook how stress outside of the home manifests as stress in the home. The more time I take reading and watching coverage of the war and the antisemitism perpetrated in its wake, the less present I am to my family. If your teen resists talking with you about the war, it may be because they feel that the crisis is a threat to your ability to care for, nurture and protect them. To counter this, parents can pay attention to their teen's well-being and find time to do things that they enjoy doing together. Hirschfeld talked about "finding time for normalcy" and connecting through Shabbat rituals or other ways that you can slow down together. Even if this is an obvious point, it is worth repeating. 
 2. "Don't assume that your teen understands your connection to Israel."
This is something that I am learning every day. When I think of my own connection to Israel, I recall the personal stories of those who found refuge in Israel after the displacement of millions of Jews after World War II and after the rise of Arab nationalist movements. I remember my first trip to Israel as a teen, connecting with my extended family there, and studying and living there during my college years. I met incredible Israelis and Palestinians working side by side to build a future based on coexistence and respect. And I remember former Prime Ministers Yitzhak Rabin and Shimon Peres and their visions of peace. Indeed, many of the hostages being held in Hamas tunnels are people who devoted their lives to those visions.
But our teens and young adults have come of age at a very different time. Israel has been labeled by their peers as a colonizer and white-supremacist oppressor. And since Rabin's assassination, openly racist political and religious leaders within Israel have energized a Jewish supremacist vision, one that has a platform within the current government.
Since we cannot assume that our teens understand our connection to Israel, this crisis is a good moment to make time for you and your teen to share a walk, a meal or a drive — a time when you can give your teen some context that will help them understand why you care. Note: This is not the same as telling them why they should care. But it is important to share why you care, and what it means to you right now as you absorb the news and think about your connection to it. Even if your teen has a different set of feelings than you right now about Israel, you can ask your teen to have empathy for the emotions that you are feeling.  
3. "Keep in mind that this is an unsettling time for teens because they are seeing some of their peers sharing anti-Israel, and in some cases, anti-Jewish hate, and this is disrupting their social connections."
Even well-educated, college-bound teens are more likely to read the political opinions of a select group of models, athletes, actors and cultural commentators than they are to follow journalists, political scientists or writers. Some people in your teens' network are likely sharing propaganda and conspiracy theories posted by their favorite influencers. But while teens today are seeing vehemently anti-Israel posts and anti-Jewish posts, most do not want to make waves about them. Whether these posts are shared by someone in their class, on their sports team, or from their summer camp, most teens would rather not confront the person or comment on the post. Also, when teens see posts that call for peace, a ceasefire or humanitarian aid, they don't necessarily view them as anti-Israel or antisemitic, but simply as "pro-peace."  
If your teen is willing to talk with you about what they are seeing on social media, you can help support their decision-making as they navigate what posts to ignore, when to reach out and when to speak up. You can help them find information about the crisis that they can trust, help them understand the continued threats that Hamas and Islamic Jihad pose in Gaza and in the region, and help them figure out what role they can play in challenging hate of any kind.  
4. "If your teen is truly obsessed with the war, seeing everything through the lens of this crisis, and using this issue as a way to distance themselves from you, then you may need to speak with someone who can mediate the situation."
There are times when a teen will latch on to an extreme political position because it sends a message to the parent that they seek independence or detachment. In more extreme cases, the teen can begin to see the world through the lens of a political battle and place the parents as the enemy. If that is your case right now, you may want to seek support from a friend, clergy person or therapist.
5. "It is natural for teens to differentiate their views from parents, and they often use their peers as a reference group."
If your teens are in a school where peers are one-sided in their solidarity with Palestinians in Gaza, and indifferent when it comes to the continued attacks on Israeli citizens by Hamas rockets, the welfare of the hostages being held by Hamas or acts of antisemitism here and around the world, then your teens may feel that fitting into their peer group requires that they express only pro-Palestinian sentiment or suppress their pro-Israel leanings. They might need to hear from parents the message that their hearts can have room for both the Palestinians suffering in Gaza and for the millions of Israelis who are in mourning, displaced, hiding in bomb shelters or awaiting news about the captives.  
To help your teen expand their circle of empathy, you might share the various ways that Israelis are working with Palestinians to express solidarity, or tell them about joint efforts to provide humanitarian relief, like World Central Kitchen, which seek to help all non-combatants evacuees and families impacted by the escalating conflict in the region. Help your teens to see that there are dozens of ways to care for Israelis, for the Jewish people as a whole, and for Palestinians. Share the story of the late Vivian Silver, the Israeli peace activist murdered by Hamas. Give them hope that coexistence is still possible.
I deeply appreciated Hirschfeld's insights, and since hearing them I, as a parent and a rabbi, have been trying my best to be in dialogue across the generations, which includes my children and their peers. I know that for some of my own peers, this has been one of the most challenging times in their parenting journey. The arguments that they are having with their teens are enormously difficult and require a great deal of patience.
I hope that in the coming months, we as a Jewish community can support all parents of teens as we navigate through this crisis and help bridge some of the generational and other divides that are tearing us apart.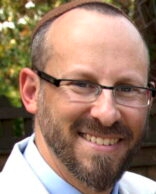 serves as the Vice President-Education for Moving Traditions (www.movingtraditions.org).
The views and opinions expressed in this article are those of the author and do not necessarily reflect the views of JTA or its parent company, 70 Faces Media.