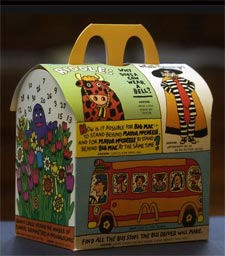 As an international bastion of treyf, McDonald's doesn't seem to have much Jewish going on. But dig a little deeper and you'll find that the first Happy Meal box was designed by a famous Jewish illustrator, children's book author, and Yiddish story aficionado named Simms Taback.
But Taback, who won a Caldecott Medal in 2000, is better known for his rich and whimsical picture books than for changing the ways American children consume chicken nuggets. In Joseph Had a Little Overcoat, not to mention the 40-plus other books that bear his name, Taback's inimitable style can be seen in full effect: cut-and-paste characters brought to life with dark, suede-like colors and bizarre settings.
Taback isn't the only Jew to make a lasting impact on the fast food industry. In 1964, two Jewish brothers by the names of Forrest and Leroy Raffel founded Arby's—(i.e. "R.B.'s," for Raffel Brothers). And then there's Subway, which had 12 glatt kosher locations in America during its peak, though now only 5 remain. They might have fared better had they recruited Taback to the cause.
Image: Ventura County Star