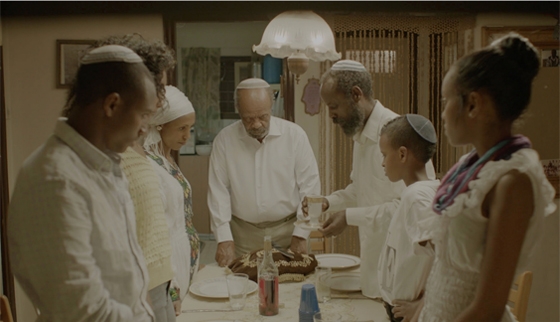 When Ethiopian Jews started emigrating to Israel in 1984 they made an indelible impact on Israel, and Israel made an indelible impact on them. Ethiopian-Israeli Bazi Gete puts that immigrant dynamic front and center in his stunningly acted new feature film Red Leaves, which sheds light on a segment of Israeli life that is rarely seen by the general public.
Starring celebrated Ethiopian actor Debebe Eshetu, the film, which Gete says was inspired by King Lear, tells a classic tale of generational pain and loss. But like every classic tale, the beauty of Red Leaves is in the particulars. After Masganeo (Eshetu) loses his wife, he informs his two grown sons that he plans to move in with them. But doing so means integrating into his sons' families—which do not exactly mirror the patriarchal Ethiopian Jewish world Masganeo believes in, and knows.
One son allows his daughter to go out with her non-Ethiopian boyfriend after Shabbat dinner, and another, the wealthier, is having an affair behind his wife's back. Both a family drama and a social commentary, Red Leaves, which is in Hebrew and Amharic, highlights an Israel we hope to be seeing more of on the big screen.
Follow the film on Facebook to learn of upcoming screenings. (And to push for a U.S. release!)